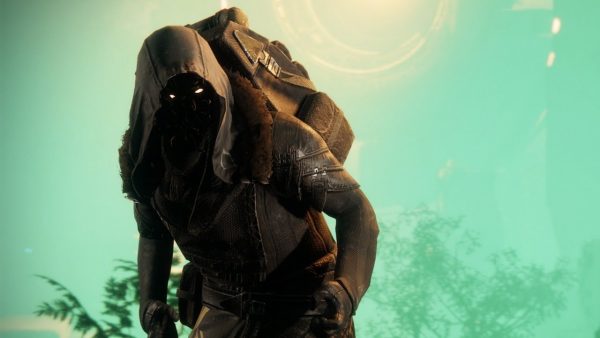 Xur has returned for the second time since Shadowkeep's launch, and this week you might actually stand a chance of being able to afford some of the items he has with him.
Xur is on the Tower this week, so nice and easy. He's hanging out in the back of the Hanger. you need to go behind the emo guy representing Dead Orbit in order to find him. Let's dive in and see what he's got this week.
Exotic Scout Rifle: Jade Rabbit – 29 Legendary Shards
We've already done our own in-depth article on whether Jade Rabbit is the best Exotic Scout Rifle or not. You should read that before buying it this week, but we'll still cover the basic details here for you to give you an overview.
Stats
Impact – 67
Range – 87
Stability – 55
Handling – 29
Reload Speed – 59
Hidden Stats
Zoom – 20
Recoil Direction – 100
Inventory Size – 30
aim Assistance – 80
Perks
Exotic Perk: The Fate Of All Fools – Chaining body shots with Jade Rabbit will increase the damage of your precision shot
Zen Moment – Causing damage with Jade Rabbit increases its stability
These base game Gauntlets are nothing to write home about in the looks department, but they are an Exotic. The Exotic perk, spring-Loaded Mounting, boosts Sidearm ready and reload speed. If you swap yo a sidearm while critically wounded then it'll deal increased damage.
Exotic Warlock Helmet: The Stag – 23 Legendary Shards
This is the Helmet that Deej wears whenever he's on a stream, but it's pretty cool anyway outside of that fact. The Exotic perk, Dearly Departed, grants you Rift energy when you're critically wounded. In addition, it'll create a healing Rift on your corpse when you die.
Exotic Titan Gauntlets: Ashen Wake – 23 Legendary Shards
These Gauntlets were added with Warmind, so even those Guardians playing on Destiny 2 New Light can access them. The Exotic perk, Bring The Heat, makes Fusion Grenades explode on impact, plus you can throw them further with these Gauntlets on.
Our Take
This week, speaking for myself, I'd say the Hunter Gauntlets are the best Exotic on offer. I do love Jade Rabbit, but it's nothing to write home about compared to some of the Shadowkeep Exotics such as Eriana's Vow. As always, buy what you don't own because it's important to build up that collection. Otherwise, if you're a new Guardian, I'd say you should get the Exotic for the Class you're playing with most right now. It doesn't matter if you end up switching, it's just important to build up that Power Level right now so you can access all the great endgame content.
Let us know what you pick up in the comments.