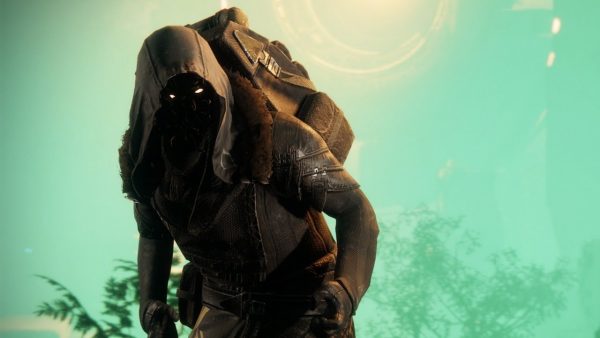 Xur is back in our lives for another weekend! This week you can find him skulking around on Titan in the Rig. He's in a shady corner like the dealer of rare goods he is. Let's dive in and check out what he's got for us this week.
Exotic Trace Rifle: Coldheart – 29 Legendary Shards
We've already done our own analysis of whether Coldheart is the best Exotic Trace Rifle in Destiny 2. You should definitely read that before you pick it up this week. This weapon was a Playstation 4 exclusive, but now it's available for everyone! We'll cover the details briefly here now.
Stats
Rounds per minute – 1000
Impact – 6
Range – 73
Stability – 73-91
Magazine – 101
Reload Speed – 37-55
Handling – 32
Hidden Stats
Zoom – 16
Inventory Size – 60
Aim Assistance – 100
Recoil Direction – 100
Perks
Exotic perk: Cold Fusion – Coldheart fires a steady cold-fusion powered laser
Longest Winter – Coldheart's laser does exponentially more damage the longer it remains on the target
Exotic Warlock Chest Armour: Chromatic Fire – 23 Legendary Shards
Chromatic Fire is a Forsaken Exotic that I'm pretty sure Xur had all of two weeks ago. I'd mention the stats it boosts but those will be irrelevant with Armour 2.0 so I'll stop. The Exotic perk, Crystalline Transistor, creates an explosion in the element of your Subclass when you get a precision kill with a kinetic weapon.
Exotic Titan Chest Armour: Hallowfire Heart – 23 Legendary Shards
Hallowfire Heart is a really well known Exotic at this point in Destiny 2 history. The Exotic perk, Sunfire Furnace, massively improves your Solar abilities while Hammer of Sol is fully charged. The armour also reduces your Melee and Grenade recharge times by 75 percent, but Barricade isn't affected.
Exotic Hunter Chest Armour: The Dragon's Shadow – 23 Legendary Shards
One of my personal favourite Exotics in the whole of Destiny 2, but that's because I'm a Hunter main. The Exotic perk, Wraithmetal Steel, makes dodging reload all weapons and increases both movement and weapon handling for a short time after.
Our Take
This week we need to recommend you purchase The Dragon's Shadow. Honestly, this is a really great Exotic, and it'll help you push through those really tough encounters in almost every part of Destiny 2 with a tactic that you'll continue to want to use even when you don't have it equipped.
Let us know what you buy from Xur this week in the comments.