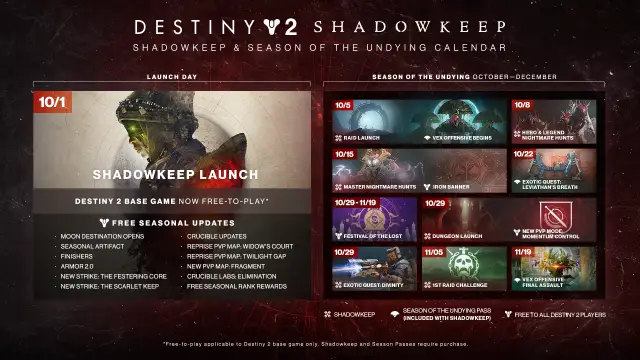 Bungie has revealed the official Destiny 2 Shadowkeep roadmap that will take effect from the 1st of October 2019. We're going to run you through the details quickly here so you know what to expect.
Shadowkeep Launch
As we all know, Shadowkeep and Destiny 2 New Light launch on the 1st of October 2019. At this time we'll be able to play through the main Shadowkeep campaign and activities. Also launching on this date are a whole host of changes to Destiny 2, which you can see below.
Moon Destination opens
Seasonal Artifact for Season of the Undying given to Guardians
Finishing Moves enabled
Armour 2.0 starts
New Strike opens: The Festering Core
New Strike opens: The Scarlet Keep
Crucible updates
Reprise PVP map: Widow's Court
Reprise PVP Map: Twilight Gap
New PVP Map: Fragment
Crucible Labs: Elimination
All of the above launches with Shadowkeep. We'll be going through the details on some of these changes over the next week or so. Stay tuned to the site for those, and an in-depth look at the Shadowkeep roadmap. Let's take a brief look at what's coming in the Shadowkeep roadmap now.
On the 10th of October we'll see the Vex Offensive begin, which I think is the starting event for Season of the Undying. This will also be the launch date for the Shadowkeep raid.
Then on the 8th of October Hero and Legend Nightmare Hunts begin. These sound like harder versions of an event called Nightmare Hunts, not sure what they are though.
On the 15th of October Master Nightmare Hunts, still not sure what they are, launch. This will also be the first week for Iron Banner during Season of the Undying.
On the 22nd of October the first Exotic quest for the season will begin. This Exotic is a Bow named Leviathan's Breath.
From the 29th of October until the 11th of November we'll see the return of Festival of the Lost. A new PVP mode called Momentum Control will also be introduced to Destiny 2 on the 29th of October. The final new addition for this date is another Exotic Quest. This one's for the Trace Rifle named Divinity.
Then on the 5th of November we see the introduction of the first Raid Challenge for Season of the Undying.
The final event of Season of the Undying is called Vex Offensive: Final Assault. We don't know what this will entail, but it'll mark the end of this season and the start of Season of Dawn.
Let us know what you think of the roadmap in the comments.
Image Source: Bungie