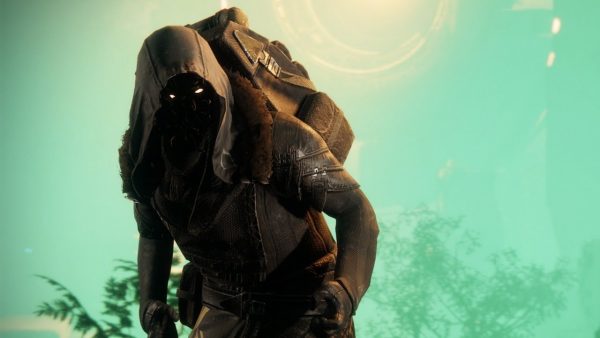 Xur is back! This week the shady Exotic vendor is on Earth in the EDZ, hanging out in Winding Cove. To find him you need to head to the crashed Fallen Ketch, jump up to the very top, and you'll see his scary face. Failing that, head to Winding Cove and look for where all the Guardians are gathered. Let's dive in and look at his wares this week.
Exotic Scout Rifle: Jade Rabbit – 29 Legendary Shards
We've already done our own in-depth analysis of Jade Rabbit and whether it's the best Exotic Scout Rifle. I thoroughly recommend you read that before buying the weapon, but we'll jump in and look at the stats and perks here anyway just for quick reference. The stats on Jade Rabbit are as follows.
Impact – 67
Range – 86
Stability – 55-82
Magazine – 10
Reload Speed – 59
Handling – 29
The hidden stats on Jade Rabbit are as follows.
Zoom – 20
Inventory Size – 30
Aim Assistance – 80
Recoil Direction – 100
The Exotic perk on Jade Rabbit, The Fate Of All Fools, gives you bonus damage on your next precision shot if you chain body shots. That precision shot will also return ammo to the magazine for you. The only other perk you're likely to see on Jade Rabbit is Zen Moment, which increases Stability when causing damage with the weapon.
Exotic Hunter Gauntlets: Oathkeeper – 23 Legendary Shards
These Gauntlets are a Forsaken Exotic, boosting Mobility or Recovery. The Exotic perk, Adamantine Brace, allows you to hold Bows while fully charged for as long as you want, no limit. As a big Bow user, I can testify that this is a brilliant boon.
Exotic Titan Gauntlets: Ursa Furiosa – 23 Legendary Shards
More Forsaken Exotics, these ones boost Resilience. The Exotic perk, Ursine Guard, allows you to move faster while guarding with Sentinel Shield. Any damage you guard while the Super is active will be converted back into Super energy when the Super ends.
Exotic Warlock Chest Armour: Phoenix Protocol – 23 Legendary Shards
Another Forsaken Exotic, the last armour piece of this week, this one boosts Mobility or Recovery. The Exotic perk, Battle-Hearth, returns Super energy for kills and assists you manage to get while standing in your Well of Radiance.
Those are all the Exotics you can purchase this week. Don't forget that if you need to begin the Invitation of the Nine quest you can do so by purchasing the Invitation this week.
If I had to recommend one Exotic, it would be the Hunter Gauntlets. Seriously, that Exotic perk is brilliant. Let us know what you pick up from Xur in the comments.