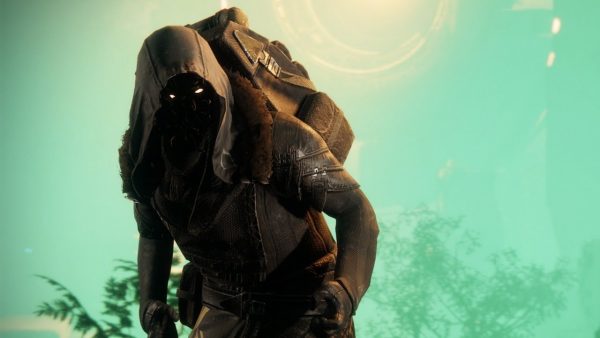 Xur has come to us once again! He's got some Exotic gear that, even if you already own it, will drop at 731 Light Level, so it's a good way to push that up if you need to for this new season. This week you can find Xur on Nessus, over in Watcher's Grave. As always he has the Invitation of the Nine item, and we've got guides for every week if you need them. Let's dive in and check out what his wares are this week.
Exotic Sub Machine Gun: The Huckleberry – 29 Legendary Shards
We've already done our own in-depth analysis of whether or not The Huckleberry is the best Exotic Sub Machine Gun. You definitely need to give that a read before buying it, but we'll cover some lighter details of it here as well for you. The stats on The Huckleberry are as follows.
Rounds Per Minute – 750
Impact 22
Range – 58
Stability – 56
Magazine Size – 37
Reload Speed – 10
Handling – 87
The hidden stats on The Huckleberry are as follows.
Zoom – 13
Inventory Size – 100
Aim Assistance – 49
Recoil Direction – 100
The Exotic perk on The Huckleberry, Ride The Bull, gives the weapon inreased Rate of Fire and Recoil while you're holding down the trigger. Any kills you get with The Huckleberry will also reload a portion of the magazine. This perk in particular is great for the Lumina Exotic Hand Cannon quest which dropped with Season of Opulence this week. With random rolls on Exotics it's pretty hard to know what other perks you're going to get on The Huckleberry unfortunately, but this Exotic one is a really great one.
Exotic Hunter Helmet: Graviton Forfeit – 23 Legendary Shards
This is a Curse of Osiris Exotic, but it's also been ported from Destiny 1, boosting Mobility or Recovery. The Exotic perk, Vanishing Shadow, increases the duration of any invisibility effects. It also causes your melee to recharge faster while invisible.
Exotic Titan Helmet: Khepri's Horn – 23 Legendary Shards
This is one of those mad-looking Exotics that you simply have to own, also added with Curse of Osiris, boosting Resilience or Recovery. The Exotic perk, Solar Rampart, recharges your Barricade for Solar kills, and it'll unleash a Solar blast of energy when you summon that Barricade.
Exotic Warlock Gauntlets: Sunbracers – 23 Legendary Shards
The final Exotic today is a base game one, but it looks like it belongs in the Curse of Osiris DLC, boosting Mobility or Recovery. The Exotic perk, Helium Spirals, increases Solar Grenade duration, and grants unlimited Solar Grenade energy for a limited time after Solar melee kills.
This week I have to say, there's nothing that truly stands out. If you forced me to make a recommendation, it would be for Khepri's Horn, because the Exotic perk is incredible on that thing. However, if you've only just invested in Curse of Osiris then there's a good haul here for you.
Let us know what you pick up in the comments.