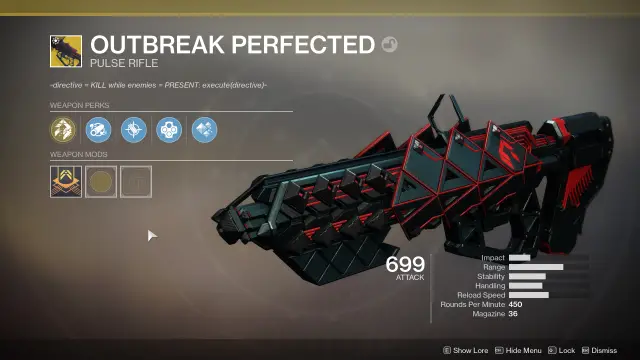 With Outbreak Perfected being added to Destiny 2 we thought it was time to decide whether it's the best Exotic Pulse Rifle in the game. If you haven't got Outbreak Perfected yet then check out our guide to get yourself up to speed.
Stats
The stats on Outbreak Perfected haven't been added to Destiny 2 DB yet so we're working from images of the weapon for these at the moment. Should the weapon get added to the site we will update our article accordingly, but take the following stats with a pinch of salt.
Impact – 23
Range – 70
Stability – 50
Handling – 45
Reload Speed – 45
Rounds Per Minute – 450
Magazine Size – 36
Perks
Once again you'll have to take these perks with a pinch of salt, because all we've got to go on is images right now. We'll cover the two perks you'll definitely see on Outbreak Perfected because there's always a chance that the others are subject to change.
The Exotic perk on Outbreak Perfected, The Corruption Spreads, makes the weapon create SIVA nanites on rapid hits and precision kills. Basically enemy corpses from precision kills will deal damage to other enemies, and rapid hits will cause a build up of damage effect similar to Solar burn.
The only other perk you'll definitely see on Outbreak Perfected is Parasitism, which makes the weapon deal more damage based on the number of SIVA nanites attached to them. Combined with the Exotic perk, this basically means that landing rapid shots anywhere on an enemy is going to make short work of them.
Verdict
The only other Exotic Pulse Rifles in Destiny 2 are Graviton Lance and Vigilance Wing, both of which we've done in-depth articles on. Vigilance Wing does little more than add a boost to each burst of the weapon, so we can easily say that Outbreak Perfected is better than that.
Graviton Lance fires the occasional shot that has increased damage and no drop off. Again this is nowhere near as good as a weapon that creates damaging nanites that buff consecutive shots, but it's still good.
Based on the current weapons available in Destiny 2, I think it's safe to say that yes Outbreak Perfected is the best Exotic Pulse Rifle in the game. Previously we awarded this title to Graviton Lance, but now we're ripping it away to the true ruler on the battlefirled when it comes to Exotic Pulse Rifles.
This is just our opinion, let us know what you think in the comments.
Image Source: Polygon