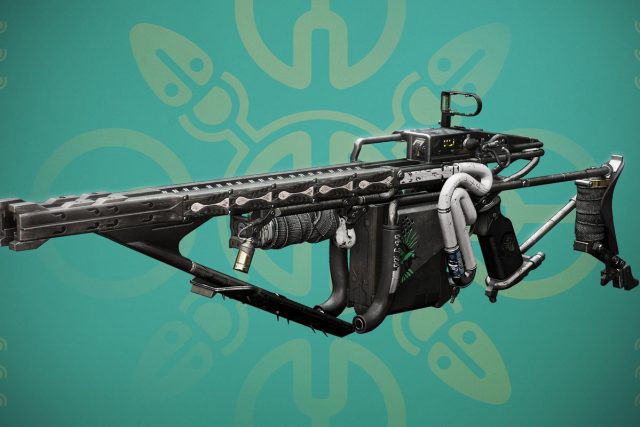 The Revelry is well and truly upon us, giving all Guardians the opportunity to unlock a new seasonal Exotic, Arbalest. This Exotic Kinetic Fusion Rifle is the first of its kind, but it won't be granted to you easily. In order to unlock Arbalest you need to complete a series of requirements, so we put a guide together to help you on your journey.
The basic costs for Arbalest are 300 Reveler's Essence and the completed Triumph, Party Hard. Getting that Essence won't be an issue when the second part of this costs requires you to complete seven of the ten Revelry Triumphs. the best part about this cost is that you need to pay up by the 7th of May, or the weapon will be gone.
The Revelry Triumph Guide
It's important to know what the Triumphs for The Revelry are if you're going to pick the easier ones to complete for the seasonal event. We'll recommend a couple of them as we go.
A Bountiful Spring
This Triumph asks you to complete 50 Daily and Weekly Bounties for Eva Levante. Honestly, we think this is one of the harder Triumphs to finish, but if you're able to log in each day, collect Bounties from Eva, and complete them in addition to the Weekly ones for the duration of The Revelry, then you should have no trouble completing this Triumph.
Budding Fashion
To complete this Triumph you need to kill 20 bosses while wearing at least four pieces of Revelry Armour. This is another really difficult Triumph, mainly because it relies on you getting decent drops. One caveat is that at least you don't need a full set of one Revelry Armour, so you can just stick on whatever you find in the Verdant Forest and start plugging away at bosses. With there being a potential for five bosses in each Verdant Forest run, you should complete this quite quickly if you've got the Armour.
Fireworks!
To compete this Triumph you need to get 100 kills with grenades across Strikes, the Crucible, and Gambit. Now this is one you could do without even realising it during The Revelry. Just be sure to throw your Grenades as much as possible over the next couple of weeks, this is one you're definitely going to complete.
Melee Mayhem
Similar to Fireworks! For this Triumph you need to get 100 kills with melee attacks across Strikes, the Crucible, and Gambit. Again, this is one you could quite easily complete without thinking about it. Don't hold off on those precious moments where you think you could get a melee kill but want to play it safe. Get stuck in and throw some punches for the next two weeks!
Super Celebratory
This is another easy one. Kill 150 enemies with Supers. I can't think of a better way to say it, get out there and kill everything! If you're a Crucible pro then hit up Mayhem so you're using your Super more, but otherwise just be aware that when that bar is full you want to kill as many enemies as possible.
Spring Cleaning
This one sounds easy but it depends on how much time you have to run Verdant Forest. to complete this Triumph you must clear 50 branches of the Verdant Forest, meaning you need to do a lot of this activity in order to finish the Triumph. The good news is that if you're planning on just running Verdant Forest for the next two weeks then you'll definitely complete this.
Spring Hunt
This Triumph could sound easy considering there are up to five bosses in a Verdant Forest run, but I don't think it's going to be that simple. this Triumph requires you to kill three bosses in a single Verdant Forest run. If you're just grinding the early stages and not getting through the branches then you won't get this Triumph. Keep persevering and eventually you'll be matched with a good team who will get you to where you need to be.
Verdant Light Competetive
This Triumph asks you to generate 200 Orbs of Light in Gambit or Crucible. In both you need to be using your Super, which ties in with the Super Celebratory Triumph above. This one's easy if you're playing either of these modes a lot, but if not then you're going to struggle.
Verdant Light Cooperative
Instead of Gambit or Crucible, this Triumph wants 200 Orbs of Light generated in either Raids or Strikes. Again, you need to be using Supers, but I think Strikes would be the easier option here. If you enjoy running Strikes then this is going to be easy, but I don't think anyone enjoys popping their Super outside of the exact moment it's required in Raids, so I don't see those being fun.
Verdant Light Events
Another Triumph that wants 200 Orbs of Light, but this time they need to be in a Black Armoury Forge Event, or the Verdant Forest activity. If you aren't running these events then you're going to struggle, but I'd say as long as you are then you'll hit this Triumph fairly quickly, just don't hold onto your Super.
Reveler's Essence
Acquiring 300 Reveler's Essence might seem daunting, but when you look at all of the Triumphs you need to complete it puts that number into perspective. If you are truly grinding for Arbalest in the Verdant Forest, you'll have 300 Reveler's Essence before you need it.
That's our guide for how to get Arbalest during The Revelry. Remember, the even only runs until the 7th of May, so you need to get in the game and start running through activities if you want to secure this Exotic weapon.
Let us know what you think of Arbalest, and The Revelry, in the comments.
Image Source: Polygon