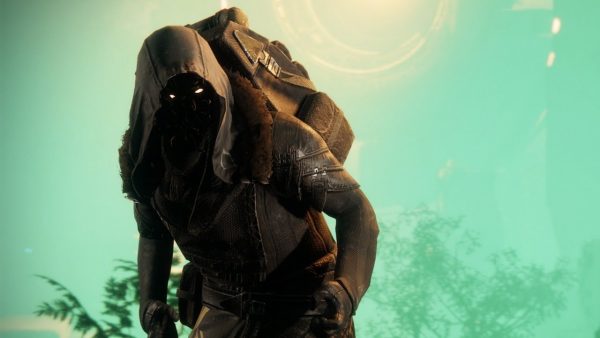 After missing where he was last week, sorry about that, we're back to tracking where Xur, the Exotic vendor, is in Destiny 2. This week he's over on Titan, on the rig. Head to the spawn point there and look for the cluster of Guardians slightly below the level you start on, he's hiding in a hole. Let's jump in and see what he's got.
Exotic Rocket Launcher: Gjallarhorn
If you click on the link in the header you'll see where the Destiny 2 Subreddit thread for Xur has been sending Guardians today. With it being Gjallarhorn Day 2019 we thought we'd include this little easter egg, an homage to one of the best times in Destiny 1. Unfortunately Bungie hasn't added Gjallarhorn today, so calm down and read on for the real Xur inventory this week.
Exotic Fusion Rifle: Telesto – 29 Legendary Shards
We've already done our own in-depth analysis of Telesto, which you should definitely read before purchasing the Exotic weapon this week. An interesting bit of trivia on Telesto is that Ice T uses it with his Guardian. Let's dive in and look at the stats and perks briefly.
Stats
Impact – 85
Range – 32
Stability – 81
Handling – 56
Reload Speed – 82
Hidden Stats
Zoom – 20
Recoil Direction – 66
Weapon Size – 55
Aim Assistance – 46
Perks
Exotic perk: Unplanned Reprieve – Fusion projectiles from Telesto attach themselves to enemies, exploding with Void damage
Harbinger's Pulse – Equipped Kinetic and Energy weapons are immediately reloaded from reserved when you score multikills with Telesto.
Exotic Hunter Gauntlets: Aeon Swift – 23 Legendary Shards
This Exotic was added with Curse of Osiris. The Exotic perk, Aeon Energy, grants Grenade energy to Warlocks in the Aeon Cult, Melee energy to Titans in the Aeon Cult, and Dodge energy to Hunters in the Aeon Cult, when you Dodge. Other allies get a fraction of the energy supplied to them.
Exotic Warlock Helmet: Verity's Brow – 23 Legendary Shards
This Warmind Exotic is literally a worm husk for your face. The Exotic perk, The fourth Magic, boosts the Grenade recharge rate for you and allies when you get kills with Energy weapons.
Exotic Titan Gauntlets: Stronghold – 23 Legendary Shards
This is a Season of Opulence Exotic, which is pretty exciting. The Exotic perk, Clenched Fist, increases move speed without draining ammo when guarding with Swords. Any shots you block immediately after guarding will heal you. I'd call this overpowered.
Our Take
This week you are utterly mad if you don't purchase Stronghold. That's a Season of Opulence Exotic! Otherwise this week all the Exotics are worth purchasing, so if you don't own them then get them. Check your collections for what you need to boost your progress in Moments of Triumph as well.
Let us know what you pick up in the comments.