Xur Inventory Destiny 2 – February 2nd to 5th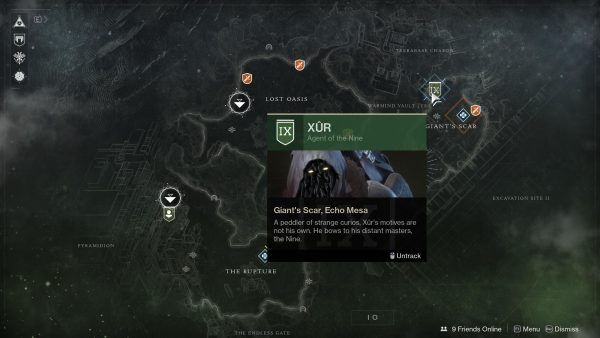 Xur has returned once again, and if you want to get some more Exotic armour and weapons to help you make the most of the upcoming Crimson Days live event then he's the guy you need to see. Let's check out what he's peddling this week.
Exotic Scout Rifle: Jade Rabbit – 29 Legendary Shards
This is once of Destiny 2's most icon weapons, having made the jump from Destiny 1 after being one of the most notorious Emblems in the game. On top of looking pretty badass it's one of the top ranked PVP weapons at #29. It doesn't take a genius to see that with a PVP live event coming up this is a weapon you probably want to have.
The Jade Rabbit fires 150 rounds per minute, Impact of 67, Range of 82, Stability of 27, Magazine of 10, Reload Speed of 59, and Handling of 29. While some of these are super low they're balanced by the high Impact and Range, making this one mean Scout Rifle.
The Exotic Perk on this weapon is The Fate of All Fools, which causes extra damage on your next precision shot if you chain body shots together beforehand. That boosted precision shot will also return ammo to the Magazine. Polygonal Rifling increases Stability, which is one of those poorer stats on this weapon, Armour-Piercing Rounds cause extra damage to enemy shields and over-penetrate on impact, and increases Range. Finally Zen Moment increases Stability while you're causing damage with the weapon. Again that final Perk is making one of the worst stats into one of the best.
I said it at the start but this is definitely one of the best weapons in Destiny 2, and a top tier Scout Rifle in PVP. I'd recommend picking it up with Crimson Days approaching.
Exotic Warlock Gauntlets: Karnstein Armlets – 23 Legendary Shards
Looking at these makes you think that a Guardian went and found a giant lizard, murdered it, and used it's skin to make Gauntlets with a couple of fancy metal shards in. Pretty cool still.
These Gauntlets increase Resilience and Recovery. The Exotic Perk Vampire's Caress, grants increased Resilience and Mobility from melee attacks. Melee attacks will highlight enemies and melee kills will greatly restore health.
Exotic Hunter Chest Armour: Raiden Flux – 23 Legendary Shards
At points you can really see the influence from other games in Destiny 2, and this is one of those points. Here we have what strongly imitates Raiden's costume from Metal Gear Solid 2, and it's actually quite awesome.
This Chest Armour greatly increases Mobility and increases Resilience. The Exotic Perk, Synapse Junctions, increases the damage output of the Arc Staff with quick, successive hits. This also increases the duration of the Super.
Exotic Titan Gauntlets: Synthoceps – 23 Legendary Shards
These Titan Gauntlets are out of this world. They look like someone replaced their skin with two different metals and had them blend into the muscle tissue to make you look stacked and lethal.
These Gauntlets increase Resilience and Recovery. The Exotic Perk, Biotic Enhancements, increase melee lunge range. It also increases melee damage when you're surrounded by enemies.
So when it comes down to it what you should buy strongly depends upon what you're up to for Crimson Days. If you're going to let it pass you buy then get something you don't have to increase your collection. If however you're planning on competing then you want to win as much as possible. The Jade Rabbit is one of the best PVP weapons out there, but if you've already got it you might see some armour here that would help you boost your performance in the event. For me, it'll be the Jade Rabbit because I need all the help I can get when it comes to PVP Let us know what you buy in the comments.
Image Source: VG247
Destiny 2: Devils Ruin Review