How Likely Is Gjallarhorn To Return To Destiny 2?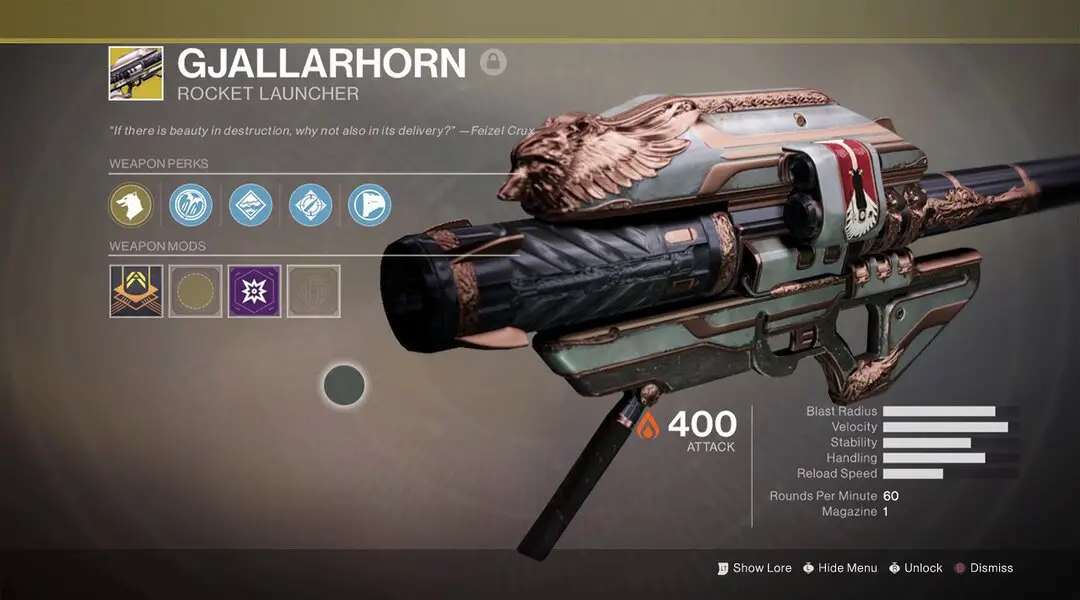 After one Guardian datamined the latest version of Destiny 2, it sounds as if Gjallarhorn, the most revered Exotic in Destiny 1 history, is going to come back in Destiny 2. Our question is; how likely is it that this god among weapons is going to be brought back alongside others like Bad Juju, Thorn, and Outbreak Perfected.
The reason Guardians believe that Gjallarhorn is the next legacy Exotic heading to Destiny 2 is because of some quest text found in this recent Destiny 2 datamine. The quest name is 'Scattered Pieces of a Larger Whole', and the quest text asks Guardians to gather Rocket Launcher components.
Now this on its own is pretty convincing stuff, but there's no reason this couldn't be a different Rocket Launcher from Destiny 1, or even a brand new Rocket Launcher that Bungie is adding to Destiny 2 later this year. However, we've got some other evidence that we think makes it far more likely that this text is referring to Gjallarhorn.
Solar Week
Earlier this year we saw Arc Week, an event which made Arc Subclasses more powerful, and set us Arc-related challenges for timed rewards. Bungie promised a Solar Week was coming, but it hasn't yet. We think that Solar Week is going to happen during Season of Opulence, even though it's not part of the official roadmap.
Why do we think it's happening during Season of Opulence? Because Shadowkeep is dropping in September, when this season ends. If Bungie don't do a Solar Week then before then, the entire event will be overshadowed by Shadowkeep at launch.
We think Solar Week is important, because Gjallarhorn is a Solar Rocket Launcher. What better time to have an Exotic quest for a Solar weapon than Solar Week? We can't think of one.
Destiny 2 Year 3
Shadowkeep will mark the beginning of year 3 for Destiny 2. Now that's not significant on its own, but it is if you look back in Destiny 1 history to year 3 and Rise of Iron. In the last big Destiny 1 expansion, Guardians could forge their own Gjallarhorn by collecting pieces of it and crafting them together.
Going back to the quest text, which says Guardians need to collect pieces of a Rocket Launcher, and the name, 'Scattered Pieces of a Greater Whole', makes it sound as if a Rocket Launcher is being forged around the beginning if year 3 for Destiny 2.
We think it would make total sense for Guardians to forge Gjallarhorn in year 3 of Destiny 2 since that's what they did in year 3 of Destiny 1. The whole things is massively symbolic, and, in combination with Solar Week, there doesn't seem like a better time for Gjallarhorn to return.
How Likely is Gjallarhorn to Return to Destiny 2?
We think it's pretty likely when you take all of the evidence above into consideration. Gjallarhorn is a god among weapons, and could upset the balance of Destiny 2 PVP in a big way, but that's what this weapon has always been about.
Let us know what you think of the potential for Gjallarhorn to come back in Destiny 2 in the comments. Thank you to Games Radar, who pointed out this Gjallarhorn nugget in the original Destiny 2 datamine.
Image Source: Gamerant
Destiny 2: Devils Ruin Review