Season Of Opulence Roadmap In-Depth Look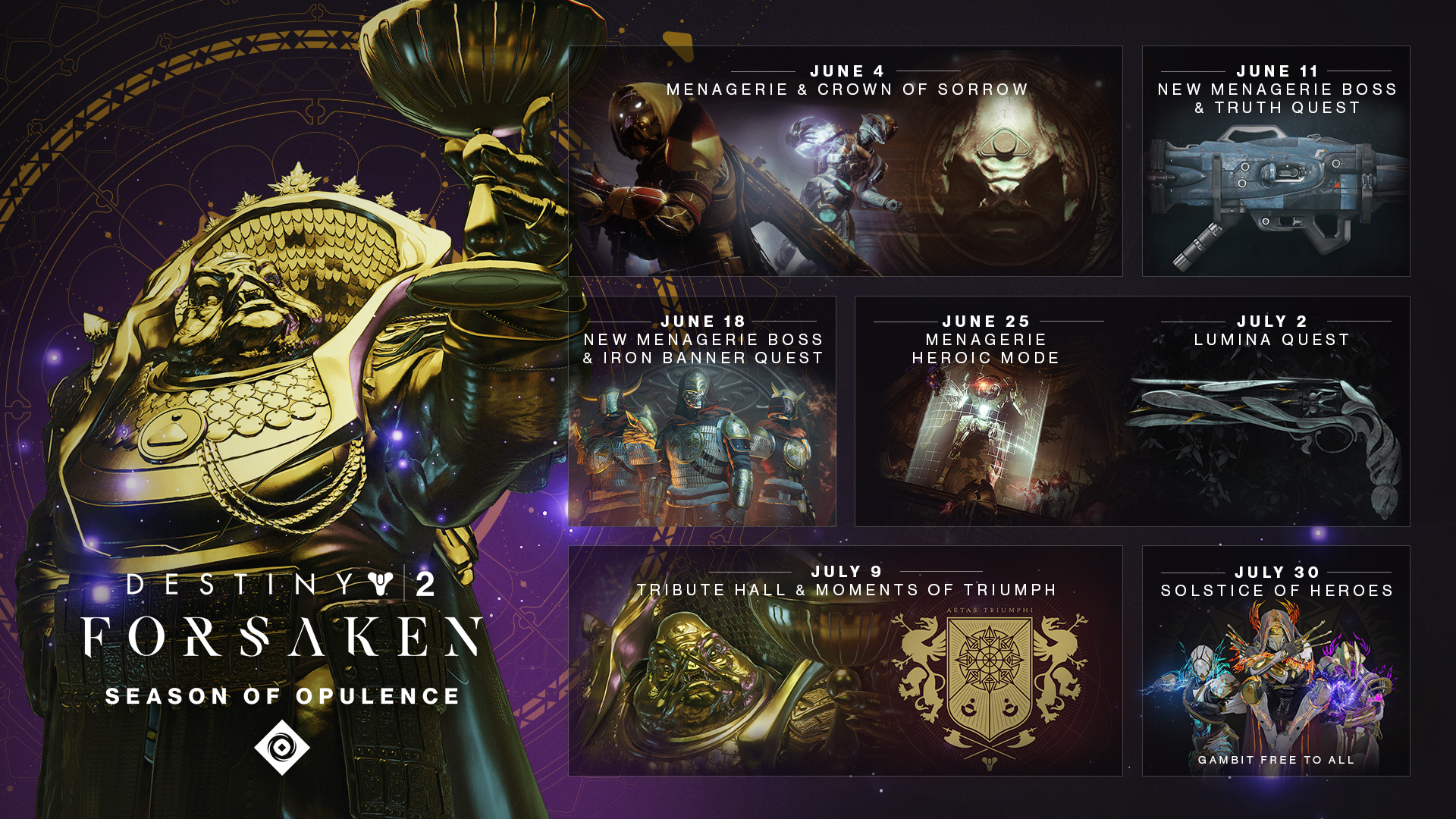 Yesterday Bungie revealed a fair bit of information about Season of Opulence. We now know a lot more about what we'll be doing when the new season drops. However, Bungie haven't yet released a ViDoc covering some of the specifics about the new season as they have for others, so we thought it was best to go through and pick apart the new season's roadmap for all the juicy details. Refresh yourself of the roadmap below and then read on for our analysis.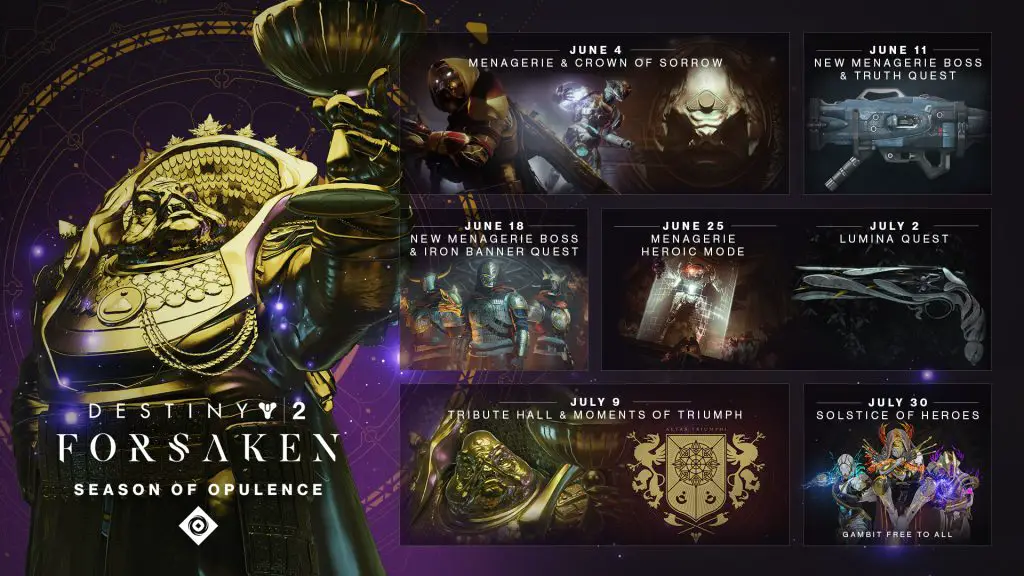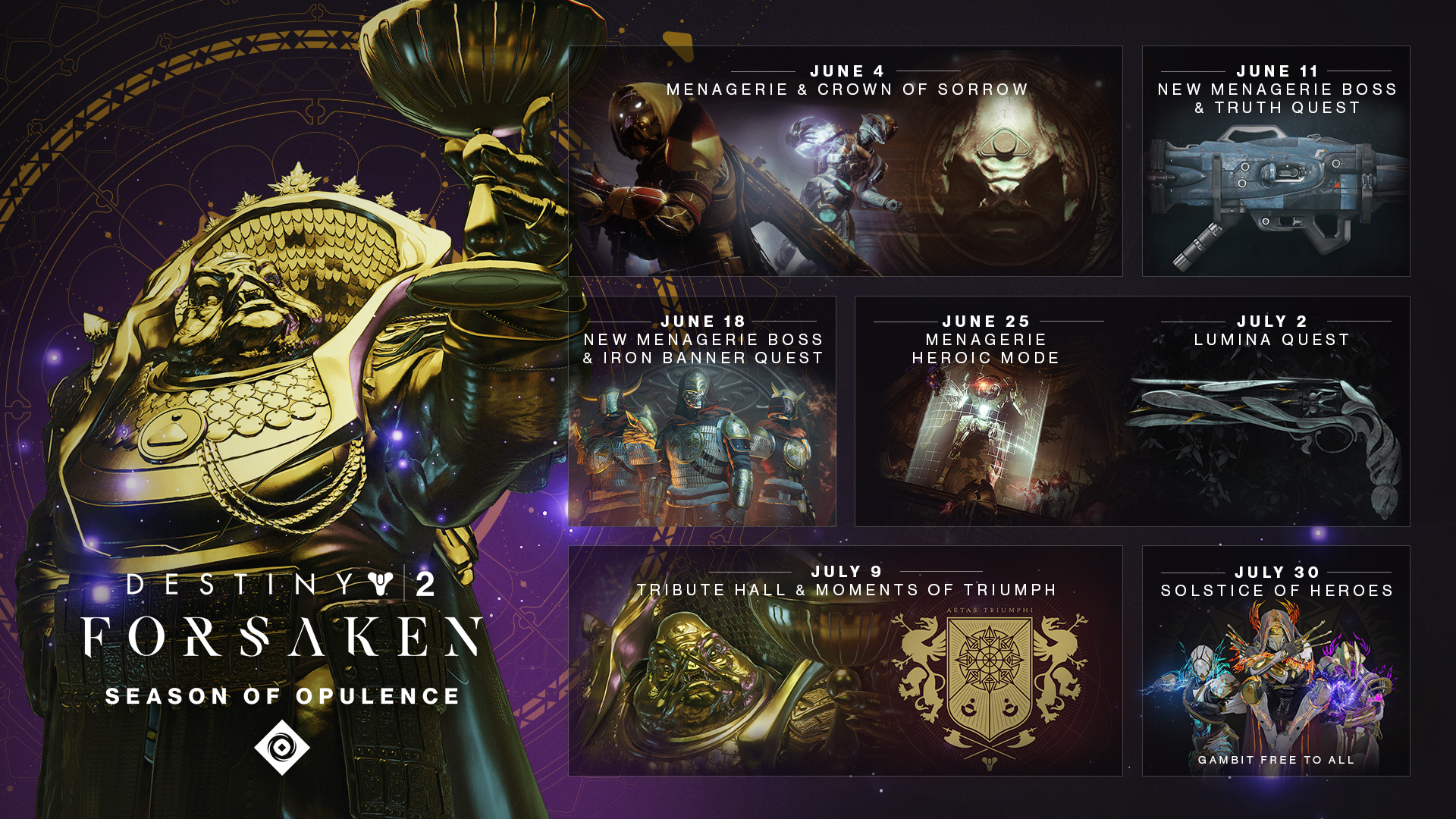 First things first, Season of Opulence launches on the 4th of June, which is the next weekly reset, and will bring with it the Menagerie and Crown of Sorrow. We already know that the new raid is launching on the same day as the season, and thanks to yesterday's details we also know about the Menagerie. This new game mode is a six player activity that will see Guardians face off against hordes of enemies. Each week a new boss will be introduced until the 25th of June, which is when the Heroic mode of Menagerie will launch. This new Heroic mode will not have matchmaking, and it will most likely be the best place to find the ultimate gear for the season.
Moving back slightly, on the 11th of June Truth will be coming to Destiny 2, alongside a new Menagerie boss. It's interesting that these two events will occur alongside each other, maybe because Bungie want to offer the wider community something to chase and do that isn't playing the new game mode. I reckon we'll see a link between Truth and Menagerie in one way or another, but only time will tell. It's likely that this Exotic quest, like all the others, will have several steps to it, but whether it lasts over a few weeks is anyone's guess.
On the 18th of June we'll be getting another Menagerie boss alongside a new Iron Banner quest. We can take this to mean that Iron Banner will be returning for the week, but what this quest will be is still up for debate. If I had to guess I'd say that it's going to be a new Exotic that's geared towards hardcore PVP for the Iron Banner. Again, this is pure speculation.
Jumping forward a little to the 2nd of July we'll see another quest added, that for Lumina. This appears to be an Exotic Hand Cannon, but I could be very wrong, and this is simply the name of the quest. Which ever way it is, this certainly looks like an Exotic quest, and the fact that it's for a Hand Cannon makes it even sweet in my opinion. What the lore surrounding the weapon will be surely relates to Calus.
On the 9th of July we'll see Tribute Hall and Moments of Triumph come to Destiny 2. Moments of Triumph we know is going to be a collection of accomplishments that will then reward us for our efforts. It's likely that there will also be a physical t-shirt that we can purchase, relating to the full completion of all triumphs. Last year we had a points system that unlocked specific items at each junction, it would make sense that this system is returning for 2019.
Tribute Hall is a bit of a tricky one to guess at. I believe it will be something that relates to our accomplishments, though it appears as though it will be planted within the Leviathan. This giant monster is where many of Destiny 2's raids have been hosted, but this looks like it'll be a single-player event that takes each Guardian into the belly of the beast.
Finally on the 30th of July we have the Solstice of Heroes. This ran alongside Moments of Triumph last year and was part of the system that awarded special gear to those who completed certain activities. The event also gave us armour which needed to be worn as we played through events and missions specifically changed to challenge us. As we completed more missions the armour was upgraded, leading to the most powerful armour in the game if a Guardian was persistent enough.
That's our in-depth look at Season of Opulence's roadmap. Hopefully once the season ends there will be a new one that begins the second Annual Pass for Destiny 2. It's likely that there will be another large expansion launching this September as Forsaken did last year, kicking off the Annual Pass content as well. Only time will tell if Bungie is going to continue this new trend for our beloved game. Maybe they'll even reveal it at E3 this coming week.
Let us know your thoughts in the comments.
Destiny 2: Devils Ruin Review