Is The Lament The Best Exotic Sword In Destiny 2?
Analysing if The Lament is the best Exotic Sword in Destiny 2.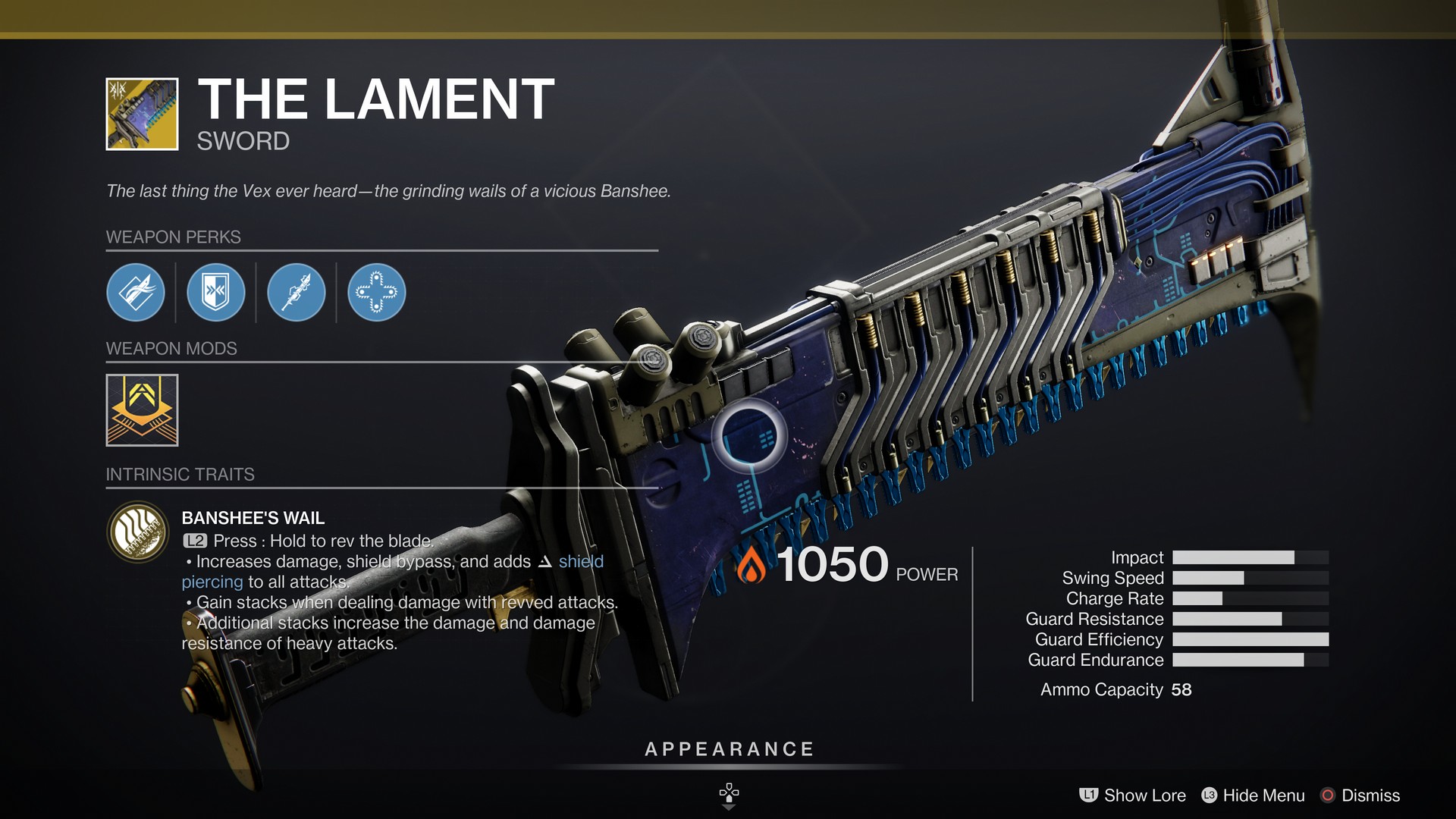 I know it's only just been released, but what better time than now to check out The Lament and see if it's the best Exotic Sword in Destiny 2? Don't worry, you don't need to complete Deep Stone Crypt in order to unlock the Sword, but the completion of the raid did unlock the quest from Banshee-44 that you need to complete in order to unlock it. First, let's check out the stats and perks.
Stats
Swing Speed – 46
Impact – 78
Guard Resistance – 70
Ammo Capacity – 58
Hidden Stats
Charge Rate – 32
Charge Time – 20
Inventory Size – 60
Magazine – 60
Stability – 50
Perks
Intrinsic Perk – Banshee's Wail: Rev to empower, which will cause the Sword to bypass shields.
Enduring Guard – The guard on this Sword has maximised efficiency and high endurance, the resistance is lower though.
Tireless Blade – Every other powered Sword kill grants ammo.
Revved Consumption – Damaging an enemy heals the wielder.
The Competition
The Lament brings the total number of Exotic Swords in Destiny 2 up to three. The other two are Black Talon and Worldline Zero.
Black Talon
This Exotic Sword is honestly an absolute monster. The Heavy attack on it fires off a projectile that is extremely useful in both PvE and PvP. More so in PvP though. This is a staple for all of my characters, and a weapon I actively build around.
Worldline Zero
This is an interesting Sword. It's almost the defensive option for Exotic Swords. The endurance is maxed out, but it also has a heavy blink attack that you can perform if you pull everything off just so. It's interesting, but not especially powerful.
Verdict
Overall, I think the bottom line is what you prefer doing as a Guardian. If you like shooting off a projectile with your Sword, then Black Talon is better than The Lament. If however, you like to get stuck in with your enemies, The Lament is so much better for shredding them to pieces.
I think this one is too close to call. Although what I can confirm is that Worldline Zero is not the best Exotic Sword.
Let us know what you think in the comments.
Image Source: Vortainment
Destiny 2: Devils Ruin Review