From The Beta – How Strikes Feel Different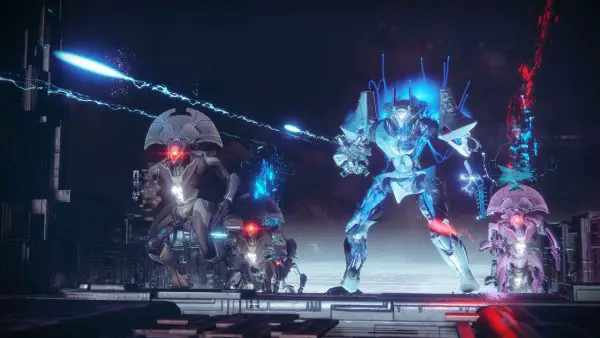 In the Destiny 2 beta I got a chance to play the single strike that Bungie made available for us, The Inverted Spire. The strike itself was pretty great, but it felt totally different to any other Strike from Destiny, so I want to talk about how different strikes feel in Destiny 2.
In the original Destiny we had Strikes that took us from point A to point B, and then revealed a boss that needed an insane amount of bullets putting into it before it finally died and rewarded us with loot. After a couple of expansions the Strikes have changed, giving us more to do than simply move around and kill stuff, tasking us with taking down shields and shutting downs systems in order to access new areas. This key difference made Strikes more interesting and far easier to play one after the other if you needed to grind for some new gear.
The Inverted Spire feels like an incredible Strike, but that's just because it's so different. Firstly the Strike is so much more open than anything in Destiny. The map gives you a huge chunk of Nessus to run around and explore in, meaning players were even able to uncover areas believed to be Lost Sectors, and what might be a secret unlocked by completing a number of tasks in a certain order. The Strike also makes the acts of the Vex and Cabal feel much more real, with giant drills actively ripping the planet apart around you, and small caves opening up into huge city-like structures.
The boss of the new Strike also feels completely different to any other Strike boss before it. The boss arena changes twice, first to an area where the boss has elemental control over sections at a time, and then to a much smaller area around which there is damage causing Vex Milk. After a point the boss then starts to throw in new ads, and even charges you on the platform right at the end. This constantly changing battle makes the boss far more interesting, and basically an entire section of the Strike in its own right.
Finally, the Strike respawn rates are greatly increased. As I was running around it became apparent that if I didn't revive my mates at the time then they'd take ages to respawn, and then take ages to reach me and the other person who were struggling up ahead with all the enemies. The Strikes in Destiny 2 feel like they're making it easier if you stick together as a team, rather than go it alone.
Image Source: VG247
Destiny 2: Devils Ruin Review