Destiny: Xur's Inventory for April 21st and 22nd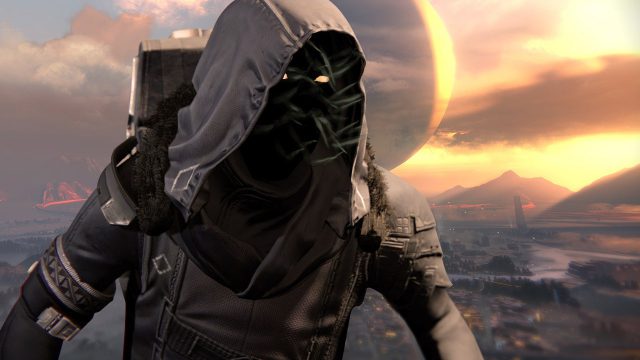 Who is Xur?
Xur Agent Of The Nine, works for the mysterious group, The Nine. While Guardians have never seen The Nine, it is said that their influence is vast. Xur, the moss-tentacle-faced vendor visits social spaces once a week, bringing with him a variety of exotic items, which Guardians can purchase with Strange Coins.
Xur's Location
Well now if you need to find Xur you're going to head to the Tower! Once there you need to go left from spawn, all the way down the stairs and pas that pointless New Monarchy representative. Make a run like you're going to see the Speaker, but at the last minute just keep on running past the entrance to his chamber so he thinks he has a friend but actually ends up crying creepy tears. If you make it to the balcony have a look around, Xur is lurking against the barriers like he wants to push you off.
Xur's Inventory
Exotic Weapon: Suros Regime (Exotic Auto Rifle) 23 Strange Coins
The Suros Regime is an iconic weapon that's been a part of Destiny since year 1. It might have had a paint job since then, but its perks are still formidable. The SUROS Legacy perk grants additional damage to the bottom half of all magazines, and gives you a chance to heal with every kill.
Check out our analysis of the Suros Regime to see if you're interested.
Exotic Helmet: An Insurmountable Skullfort (Titan class) 13 Strange Coins
This helmet changes your face into something that's both digital and incredibly shiny. It's perk, Improved Transfusion, makes it so kills with Storm Fist immediately grant health regeneration. You'll also respawn with full melee charge, and gain a second one to boot.
Exotic Gauntlets: Nothing Manacles (Warlock Class) 13 Strange Coins
These gauntlets are badass, that's all I've got to say about how they look because it's undeniable. Seriously just go and check them out quickly. Now you've done that, the perk, Scatter Charge, will enable tracking for Scatter Grenades, and allow you to hold an extra Scatter charge. I don't need to tell you just ho crazy this is, especially in PVP. 
Exotic Gauntlets: Shinobu's Vow (Hunter Class) 13 Strange Coins
Don't be fooled by these gauntlets. They're not the fanciest of armour for a Hunter by any means, but they do allow you that little exotic advantage. The perk, New Tricks, grants an improved skip grenade, and an additional grenade charge so that you've got plenty of them going around. To top that off you'll be throwing those grenades faster thanks to the Fastball perk.
Weapon Bundles
Dragon's Breath and Tiger Shark: (weapon Bundle) 30 Strange Coins and 25 Silver Dust
Dragon's Breath is yet another iconic weapon of Destiny year 1, getting added with The Dark Below. Dragon's Breath allows you to create what is essentially a small sun on the battlefield with each shot, and having look like a tiger is just something else.
Zhalo Supercell and Shock Hazard: (weapon Bundle) 30 Strange Coins and 25 Silver Dust
The Zhalo Supercell is a pretty awesome weapon, check out our analysis of it here. With regards to the ornament, we'll let you judge how much you want to spend on it.
Legacy Engram: (Exotic Special Weapon) 29 Strange Coins – The Legacy Engram will decode for a Year 1 or 2 piece of armour to complete your collection. Some of these items can be infused to Year 3 Light Level.
Three Of Coins (Consumable) 7 Strange Coins
Plasma Drive (Consumable) 23 Strange Coins
Emerald Coil (Consumable) 23 Strange Coins
Heavy Ammo Sythesis Consumable) 3 Strange Coins
Glass Needles (Consumable) 3 Strange Coins, 3 Motes Of Light, and 1 Exotic Shard
Our Take
Okay, so there's a good range of armour on display this week, but the Suros Regime is definitely where it's at. We'd recommend you buy that and just get on with your week, but if you've already earned it elsewhere then some of that armour to build up your collection might be worth a shout. Honestly though, if you're heading from Light 300 to 400, get some of this stuff, because it'll make your life easier in the long run. 
Destiny 2: Devils Ruin Review