How Good Is The SUROS Regime?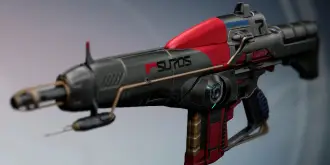 The SUROS Regime was recently on sale from Xur during his last brief visit to the Tower. While many of you may have purchased it to boost your collection in order to achieve that Age of Triumph record book stamp, you might not know what you now have sitting in your inventory.
The main perk of the SUROS Regime is SUROS Legacy. This perk grants additional damage to the bottom half of each magazine. If you get a kill with this second half of the magazine you also have a chance to regenerate health. What this results in is you blasting out half the magazine before you've seen anything, in PVP at least. In PVE this weapon may grant you some health in a clutch moment, but it's PVP where it exceeds. That additional damage will mean you get the kill before your opponent, and you'll probably get a decent health buff if they've been aiming at your head. Having the advantage in one on one fights in PVP is so important, and that's why this gun is extremely viable for all Crucible matches.
Other set perks include Spinning Up, which causes the weapon to be fired faster the longer the trigger is held. Thunderlord also comes with this perk, and it's really great to see in action, bolstering the weapon's capabilities in PVP even further. This perk can be switched out for Focused Fire, which slows the rate of fire when zooming in on targets, conversely increasing damage dealt at the same time. This one can feel a bit counter-intuitive, but if you're a Guardian who enjoys firing down a scope then this is the perk to go for.
A second set of perks include Hammer Forged, which improves accuracy and range, great for Focused Fire and anyone who likes to aim down sights to blast their enemies away. Or you can switch it out to Lightweight, which grants +2 agility to your character. Other weapons with this perk really help you out in Strikes and Raids, and it's worth having that additional agility if you can get hold of it.
To conclude, SUROS Regime is almost certainly a PVP focused weapon, and it's always been that way since Year 1. With that said, in PVE it can help you move around and dodge enemies faster than anyone else, get clutch health boosts against minions of the Darkness, and help you finish off tougher enemies with the last half of the magazine.
Image Source: VG247
Destiny 2: Devils Ruin Review