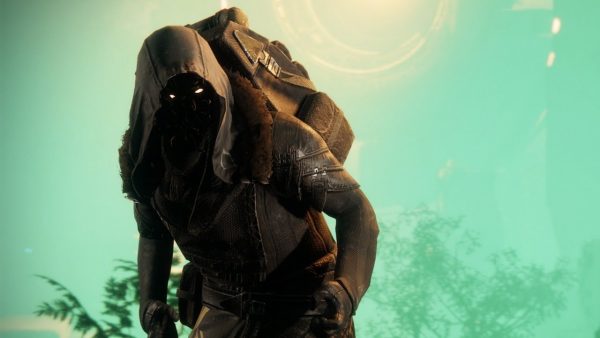 Xur is once again back in the world of Destiny 2. He's lurking in the Tower this week, head left from spawn and go all the way into the Hanger. Behind the Dead Orbit emo vendor you'll see Xur up on the stairs behind him, which is probably where you'll see loads of Guardians gathered and dancing around him. Let's jump in and check out exactly what he's got in his inventory.
Exotic Weapon – Missing
I have checked and re-checked this one for you guys and I can confirm that Xur is definitely not selling an Exotic weapon this week. There are a couple of things that might be going on, so let's run through those. First, it's thought that if Xur is selling a PS4-exclusive Exotic, such as Wavesplitter, he may just not have a weapon on all other platforms. However, this has been debunked, he's not selling a weapon on PS4 either. It's possible that Bungie is setting Xur up to sell some Forsaken weapons in the following weeks, which may be why this week, the week before Season of Opulence drops, he's just got nothing. I'm sure Bungie will address the issue soon, but right now all we know is that there's no weapon, so let's move on!
Exotic Hunter Leg Armour: Fr0st-E55 – 23 Legendary Shards
This Warmind Exotic is one of my favourites from the DLC, boosting Mobility. The Exotic perk, Rapid Cooldown, increases the regeneration of grenades, melee, and dodging when sprinting. A dodge will also increase your sprint speed.
Exotic Titan Gauntlets: Aeon Safe – 23 Legendary Shards
These Gauntlets were added with Curse of Osiris, and they boost Resilience or Mobility. the Exotic perk, Aeon Energy, grants the following to nearby Aeon Cult allies when summoning a barricade; Grenade energy for Warlocks, Barricade energy to Titans, and Dodge energy to Hunters. Any other nearby Aeon allies will recieve a fraction of the shared energy.
Exotic Warlock Chest Armour: Wings of Sacred Dawn – 23 Legendary Shards
This base game chest armour is some of the best-looking in the game, boosting Mobility or Recovery. The Exotic perk, Tome of Dawn, suspends you in midair for a short time while you're aiming weapons there with Dawnblade equipped. Any weapon hits extend the effect's duration.
This week Xur is also selling the Invitation of the Nine for 9 Legendary Shards just in case you wanted to progress through the questline, or even start it. You should purchase whatever you need for your collections, as always, so be sure to check what you need before you buy it.
Let us know what you pick up in the comments.