Xur Location Destiny 2 – December 15th to 19th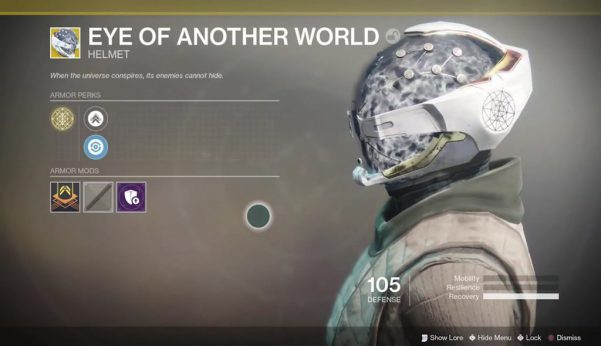 Xur has returned to Destiny 2 this week as he does every week, bringing with him Exotic armours and a weapon from his masters, The Nine. This vendor is probably the best way to procure Exotic Weapons and Armour fast, an if your Power Level is low then it can help you to up it fast. This week Xur has appeared in the Hanger in The Tower of all places, and probably the first time ever in a social space that I can remember since the game launched. But what does he have for us this week?
Exotic Sniper Rifle D.A.R.C.I – 19 Legendary Shards
This weapon is something that  Xur has sold before, and it's pretty awesome. The weapon has an Impact of 55, Range of 37, Stability of 78, Reload Speed of 64, and Handling of 78. The hidden stats are Zoom of 49, Inventory Size of 60, and Recoil Direction of 100.
In terms of Perks it has an Exotic Perk or Personal Assistant which lets you see an enemy's health and other critical information when you aim at them. This perk is particularly useful in the Crucible for tracking the health of other Guardians in the match. Extended Barrel increases Range and decreases Handling Speed, Extended Mag increases magazine size greatly but also greatly decreases Reload Speed. Target Acquired improves target acquisition and deals more precision damage when the Exotic Perk is active. Finally this weapon has Short-Action Stock which greatly increases Handling Speed.
I have to say that this is a weapon worth having for all kinds of reasons, but if it's not in your collection then I'd recommend it regardless because collecting is important. There are also those who say this can give you the edge in the Crucible, so if that's your core game mode I'd recommend it even more.
Hunter Helmet Celestial Nighthawk – 23 Legendary Shards
This Helmet is awesome! Well that's just my opinion as a Hunter main. The Exotic Perk, Hawkeye Hack, alters a Hunter's Golden Gun ability from 3 shots to 1 incredibly powerful shot. Any enemies killed by this will explode in a spectacular fashion. It goes without saying that you need to be using the Gunslinger Subclass for this. The Helmet also increases Resilience and Health Recovery.
Titan Chest Armour Hallowfire Heart – 23 Legendary Shards
This Titan Chest Armour is also themed around fire and increases Resilience and Health Recovery. The Exotic Perk, Sunfire Furnace, greatly increases the recharge rates of Solar abilities while Hammer of Sol is active. This makes for one powerful Super when rocking the Sunbreaker Subclass, but only if you take advantage of all of the abilities while Hammer of Sol is active.
Warlock Helmet Eye of Another World – 23 Legendary Shards 
This Helmet looks absolutely mental, increasing Mobility and Health Recovery at a base level. The Exotic Perk, Cerebral Uplink, Highlights priority targets and improves the regeneration speed of melee, grenade, and rift abilities. Many guardians love this Helmet because it's Exotic Perk is 100% passive, requiring no gameplay style changes on the payer's part which means you can keep on playing how you want and reap the benefits of this crazy old piece of armour.
Honest advice for what to buy this week is the same as every other week in part, get the Armour or you main class if you don't have it, but also buy what you don't have for your collection. As for the weapon it's 100% worth having, but if your a Warlock main then I'd say the Helmet is more important for you this week. Let us know your thoughts in the comments.
Image Source: GosuNoob
Destiny 2: Devils Ruin Review