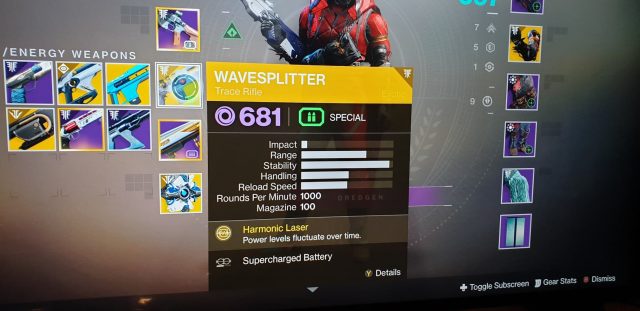 A number of Guardians on Xbox One and PC have been able to pick up Wavesplitter recently, despite the Trace Rifle being a Playstation 4 exclusive. Now bungie have announced that they're going to be rolling out a 'fix' that breaks the weapon for any Guardian not on Playstation 4 until September.
This story has some press sites reporting that Xur was selling Wavesplitter over the weekend just gone. As far as I can tell this isn't true, but it may be that some Guardians on Xbox One and PC were able to access Wavesplitter none-the-less.
However, there have been reports from Xbox One and PC Guardians saying that they were able to get Wavesplitter from drops recently. Since the news broke that Bungie is breaking the weapon for those Guardians not on Playstation 4 there has been a lot of outcry over how unfair the situation is on those Guardians who have the weapon but won't be able to use it. I can understand this frustration, because Wavesplitter is a really overpowered weapon. See below an example of the weapon on Xbox One.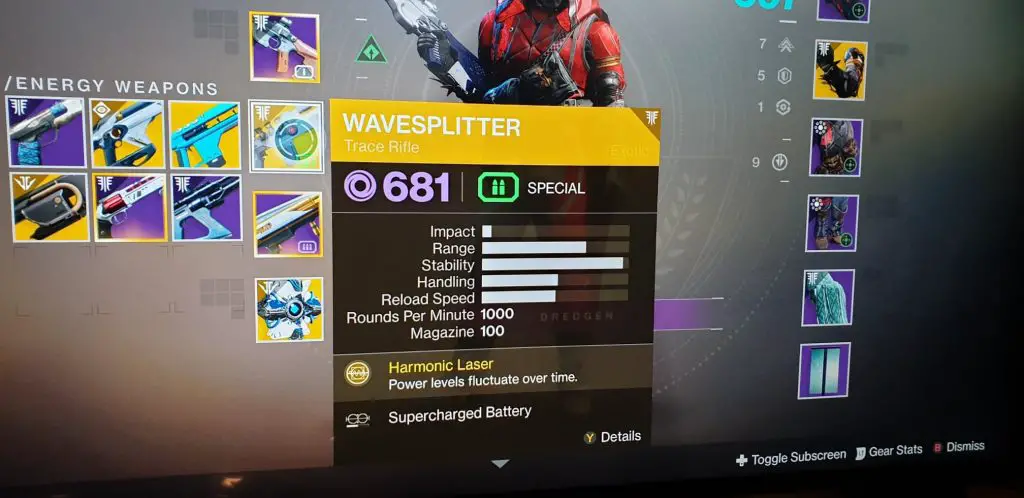 Destiny 2 Community Manager Cozmo said in a statement that the team are looking into the issue, making it clear that there was a glitch that made Wavesplitter available for Xbox One and PC Guardians. Cozmo added that a patch will soon go live to prevent these Guardians from using Wavesplitter, but that they'll be able to use it when it enters the general Exotic Drop Pool in September 2019.
Since Destiny 1 Bungie has had deals with Sony for Playstation 4 exclusive content, ranging from Strikes to gear and weapons. Wavesplitter is just one of the latest weapons to be locked for a period of time behind the platform barrier. Out of all the exclusives I would say it's the most frustrating for Guardians on other platforms, and this whole situation has just aggravated the community even more.
In the Destiny Subreddit some Guardians are calling this just the latest bumble that Bungie has made with the Destiny franchise. I'm inclined to agree with the community this time because it seems like a very harsh mistake to have made. The better solution may have been to allow Xur to bring Playstation 4 Guardians a different exclusive Exotic weapon this week, levelling the platform exclusivity barrier once again. The difference with tis second solution would be that the Xbox One and PC Guardian community wouldn't be so angry at the moment.
Let us know what you think of the Wavesplitter situation in the comments.
Image Source: Reddit