Playstation Exclusive Exotic Borealis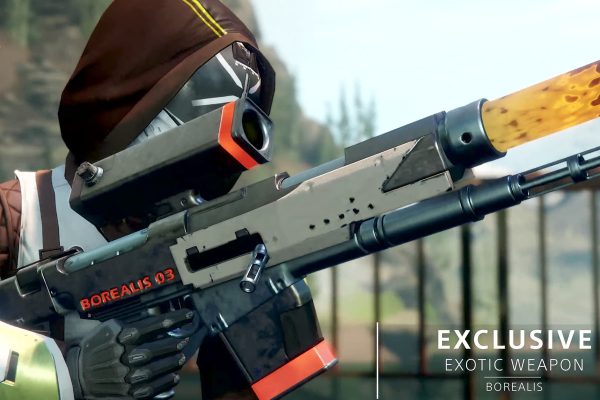 Among the exclusive content coming to Playstation 4 Guardians in Destiny 2 is an exclusive Strike, armour set for each class, PVP map, and of course this little weapon called Borealis.
Borealis is an exotic Sniper Rifle that's only on Playstation 4 for a limited time, so grinding for it is recommended so you can gloat for the maximum amount of time possible. But what's so exotic about this Sniper Rifle? And what could it help you do if you were to head out and use it in activities?
The exotic perk of this weapon, though it isn't officially defined yet, is that you can swap between Arc, Solar, and Void damage. Not only are you able to swap between the different types of elemental damage, you can do this on the fly. From the trailer it appears as though you can press a button and it will cycle the weapon to the next type of damage, though that isn't confirmed and could be very clever editing instead.
However you're able to swap between the damage types it's just impressive that you can. In Destiny 1 the House of Wolves update added a Fusion Rifle that you could swap out to have the range of a Sniper Rifle, with slightly different charging times, called Queenbreaker's Bow. This weapon completely changed how you thought about killing enemies, and made it so that you wouldn't need to swap between a number o weapons.
Can you imagine how useful a Sniper Rifle that can deal all three types of damage will be? The modifiers that are applied to every heroic activity will no longer bother you, as you chop and change your elements to take down the Ultras and deal the most damage possible in any given event, whether that's a Raid, a Strike, or even just a daily mission. To top it off, you can infuse it to keep up with the highest Light levels and avoid ever needing to leave it behind for something more powerful.
This is just the perk we know about, there could be more. I imagine that Firefly won't be available on the weapon, purely because that would be incredibly devastating when combined with the element swapping. It feels like it would need a bonus to Agility however, because Sniper Rifles are hard to stop and aim with when you have all kinds of enemies hunting you down fro all directions.
Destiny 2: Devils Ruin Review