What Is Cayde-6's Spicy Ramen?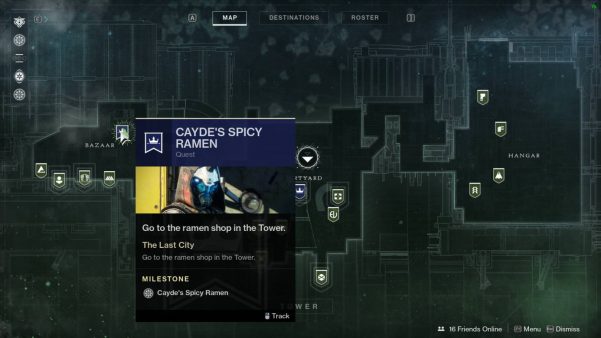 If you've been hanging out in the Tower for the last few days, maybe taking on some missions to upgrade your armour for the Solstice of Heroes, maybe just using up your last few tokens before they're no longer useful, you might have heard something about some Spicy Ramen.
This mad rumour seems to be a lot more than just senseless chatter. Cayde-6 looks like he will get a brand new mission between now and the launch of Destiny 2 Forsaken, when he will unfortunately meet an untimely end.
The mission was available for some players in the director but they were unable to do anything with it. The image below shoes exactly what certain Guardians were able to see for a time. Sadly no one has been able to access the mission any further, but thanks to a bit of datamining over on Reddit there's a bit of information regarding the mission's content.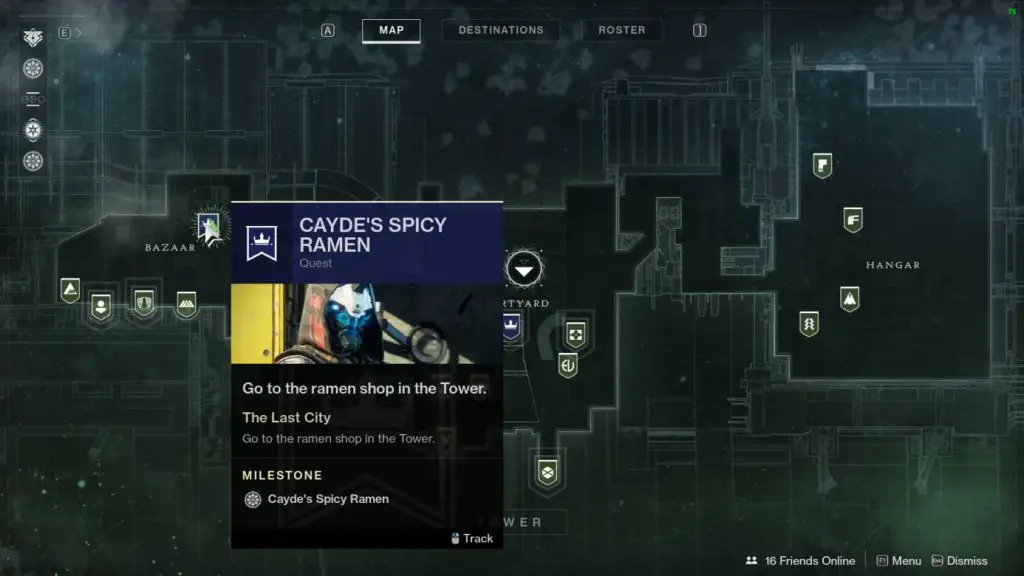 There's some flavour text which seems to be dialogue from Cayde-6 that takes place either before the mission, or as it starts when Guardians will be running towards their quest. Check out exactly what Cayde-6 says, and read it in his voice of course, below:
"What can I say? A classy order for a classy Exo. I'll try to make time to explain why Spicy Ramen is the one and only ramen shop that you and yours will ever want to eat at. First, the food. Those fresh golden noodles swimming in rich flavorful broth. Wouldn't surprise me if it was a Golden Age recipe. That combination of salt and the spice just—BAM!—hits you right in the mouth zone. And those pork dumplings? W-O-W! Don't get me started on those dumplings. Where did they even find the pork? And how about that ambiance? There's the City. Love the City. And the people walking around. Who doesn't like people? Cons? Heard folks say the Glimmer prices are a bit high. Look, I get it. Unlike yours truly, maybe you aren't sitting on a pile of Glimmer. If you need to scrape Glimmer together maybe we can work something out, I've got some caches that need to be found that are muy caliente… I'm getting sidetracked here. Look, if you know me, or know my chicken… well, maybe not the chicken, but if you know me—and trust me, I know me—you will love Spicy Ramen. Just tell them I sent you. Give them this coupon. I'm good for it. Make sure you tell them that I sent you. Cayde-6. Sounds like spade but with a C. Capital C. +6. C-A-Y-D-E. Six (not seven)."
Okay so what does this flavour text say about the mission? Well clearly Cayde-6 is going to hand over a token for us to go and get some Spicy Ramen. Why we're heading off to get some Ramen is up for debate, though it could well be Cayde-6's birthday. The sheer fact that he's getting us to go and pick something up is a bit cheeky, he should take what he's given!
This mission is obviously a bit of a farewell from Nathan Fillion and Cayde-6, which really is a sad thing to write. This character has been one of the best in the Destiny universe since the very beginning, and now we're going to have to face a future without him.
Whenever this mission hits we're sure to get a memento to remember Cayde-6 by forever. Make sure you take advantage of the final moments with this brilliant Hunter Vanguard and show him a little love when it goes live.
Image Source: Reddit
Destiny 2: Devils Ruin Review