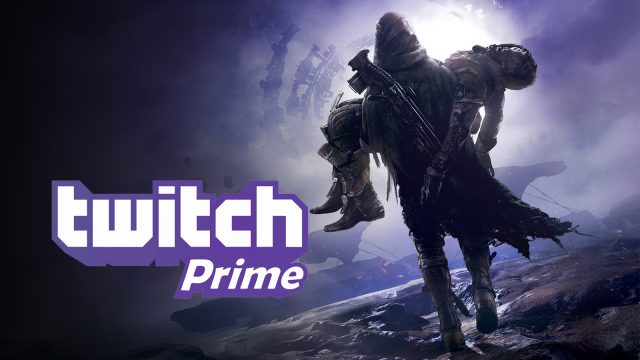 It's been revealed that Bungie is partnering with Twitch to offer Exotic and Legendary gear for Guardians to use in Destiny 2 through Twitch Prime Loot. This was leaked early in the week, but now it's fully live for all of you to take advantage of.
The process of claiming this loot is pretty simple. Sign up for Twitch Prime, then link your Bungie account to it so that you get all those sweet rewards. Twitch accidentally put the details up early, and Forbes caught it, but at this point it barely matters that it leaked considering how close to the actual launch date that leak was.
The offer allows Guardians to login once a month for six months and claim a new reward. The rewards will be available from Amanda Holliday in the Tower's Hanger. Said loot looks like it's more for Blueberries, or newer Guardians at best. This month the rewards are as follows.
SUROS Regime Ornament – Coup de Main
Ghost Shell – Skyline Flipside
Ship – unsecured/OUTCRY
As you can probably tell, this month is the SUROS Regime month. The following five months will have four different items that you can pick up from Holliday. Someone actually nabbed an image, which you can see below.
This first month of the Destiny 2 Twitch Prime Loot deal ends on the 25th of February, and so far we have no word on when the next month begins. Presumably it'll be straight after the current one.
Is This A Good Deal?
For me, someone who doesn't have anything else to do with their Twitch Prime subscription, yes this is a good deal. I'm not using it anywhere else, so I may as well use it on the game I play the most.
For those of you who sub to a lot of streamers and want to use your Twitch Prime sub elsewhere, this might not be a great deal. All of these items can be earned in the game, so they're effectively being paid for through Twitch in an incredibly complicated way.
However, I want to point out that this shows that Bungie is seeking income to help them work on Destiny 2 using methods other than in-game monetisation. This is a good thing for Guardians, as long as the deal is profitable to Twitch. If you've got a spare Twitch Prime to give away, use it on Destiny 2 this month and get yourself some extra loot. It might not be incredible, but it will help support the game.
Let us know if you link your Bungie and Twitch Prime accounts in the comments.
Image Source: Dextero