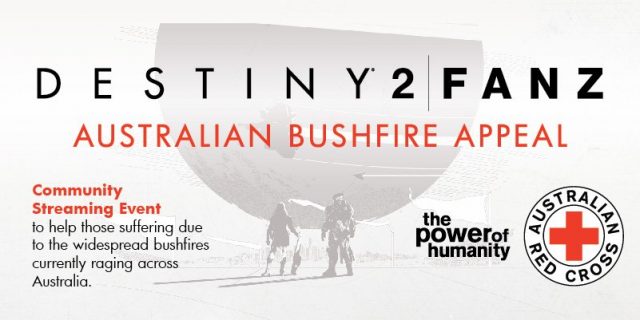 The Destiny 2 community of Guardians is one of the best in gaming. The community organise chariy streams throughout the year, but right now they're working on helping out those affected by the Australian bushfires, which are still a huge issue in the country. So far the Destiny FANZ community has raised $25,000, and they're working on raising even more!
As you can see, a bunch of streamers are teaming up to get involved in the cause, even when the news is filled with a lot more that could make the bushfires look like a small problem. The Coronavirus is just one of the huge issues in the world right now that's making headlines on a daily basis, taking up the real estate that the Australian bushfires need in order to keep them at the forefront of people's minds.
Through these livestreams not only has money been raised, but rare Emblems are being given away. If you watch anyone who's working on raising money for this cause, you're in with a chance of getting one of these Emblems if you do one little thing, donate. It's really simple, but it's that one thing that's binding the Destiny 2 community together right now.
We're all massive supporters of what the Destiny FANZ community is doing, and we'd like to encourage anyone reading this to get involved if they want to. All you have to do is get in touch with the community here, and you too can be raising money for support for those affected by the Australian bushfires.
Someone pointed something out on Twitter over the weekend. Glaad, y'know, that streamer who is probably the biggest Destiny 2 content creator out there right now? He started streaming and playing Destiny 2 when everyone hated it. He just kept on having fun with a game he really enjoyed, and didn't let anyone talk him out of it or give into the hate that surrounded the game.
I realised that Glaad is a great example to any aspiring streamers out there. If you fancy getting into streaming, Destiny 2 is a great place to try to do it, because there are so many people to collaborate with, and such a great community to get involved with. Let us know if you start streaming to support the bushfires, we'd love to pop along and support you.