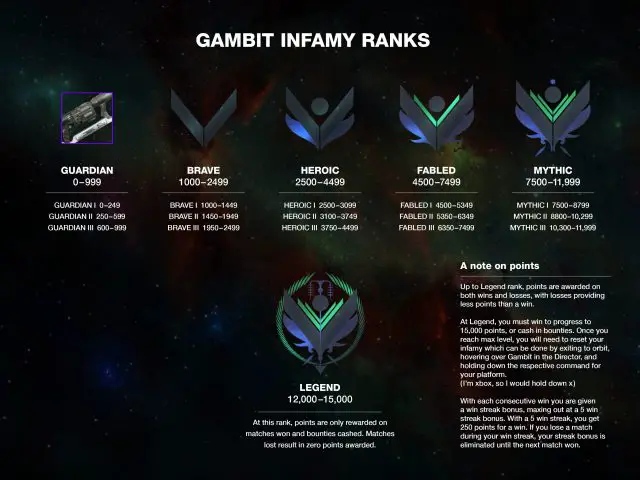 As of today, after the weekly reset, Guardians will be able to earn twice as much Infamy until the end of the week. This is something that Bungie implement a few times before a season ends to give Guardians a chance to earn the best rewards from Gambit, should they choose to target those rewards.
Infamy is the reward Guardians get for playing Gambit matches and completing bounties for the Drifter. Increasing the rank and resetting it is a requirement for specific rewards each season, and there are also Triumphs associated with the rest of Infamy rank as well.
This week Bungie are implementing a double Infamy week, meaning Guardians can earn twice as much Infamy from everything. This should give those who haven't been focusing on Gambit the chance to get their rank up and earn the rewards they may have thought were out of their reach until now.
The announcement for Double Infamy came from Twitter, via the official Destiny The Game account. Over on the Destiny Subreddit it was confirmed, with the help of Cozmo, that this week will feature only Double Infamy and no Triple Infamy rank rewards. However, Cozmo did confirm that before the season ends there will be a few weekends during which Guardians can earn triple the Infamy rank for Gambit activities.
Infamy can also be earned from completing rounds in Reckoning, the new activity added to the Gambit Director. Reckoning is a much more challenging activity, requiring Guardians to complete a set number of activities for increasingly better rewards. These rewards drop with perks that help for specific play styles in Gambit, creating a gameplay loop that's incredibly rewarding for those who enjoy Gambit.
Gambit, Gambit Prime, and Reckoning are among my favourite activities in Destiny 2. I really love the blend of PVP and PVE, and Reckoning gives me the chance to earn gear that will help me be better in each role of Gambit. I never play as one specific role, but if I'm getting a lot of Invader kills I generally stick to that role because not everyone enjoys it.
As a Guardian who hasn't had much time to play Gambit recently, I really appreciate the increased reward week, as well as the promise of a few weekends in which I can really grind for Infamy. I think these sorts of weeks are important for an MMO's community because they show an understanding from the developer that not a lot of other games have. Bungie clearly recognise that there are those Guardians who need a boost in Crucible Reputation and Infamy every now and then, so they're making it easier for anyone who was gearing up for a big grind before the end of the season.
We'll be spending a lot of time in Gambit this week that's for sure. Let us know whether you're going to be playing Gambit all week long as well in the comments.
Image Source: Reddit