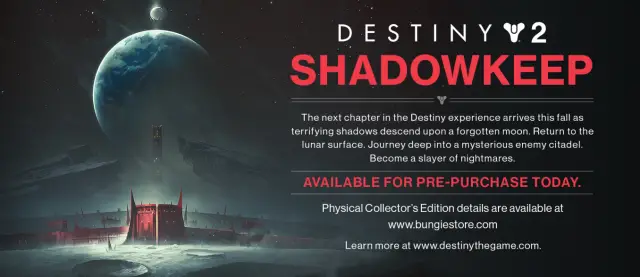 Just as we're waiting for the final season of Destiny 2's first Annual Pass to drop we get a leak from the official Bungie store regarding the game's next major expansion. The expansion is said to be called Shadowkeep, and will take Guardians back to Earth's Moon.
Every year Bungie have launched a major Destiny expansion or full game in September. Last year it was Forsaken, an expansion that completely changed the face of Destiny 2, and launched the Annual Pass which has transformed the way new content is delivered to the game.
It seems as though Bungie is planning a brand new expansion for September 2019 just like they would for any other year. Unfortunately for them it looks like this expansion has leaked ahead of their announcement, which would likely have come at E3, which starts this weekend.
We know that the new expansion is called Shadowkeep because of some art that was leaked from the Bungie Store. At the time of writing the Bungie Store is down for maintenance alongside Destiny 2 itself, which could indicate that the announcement was meant to be coming soon. The image was found on a ResetEra forum where a user had saved it before the store went down.
What is Shadowkeep?
The official artwork for Shadowkeep tells us a lot. Take a look below and then read on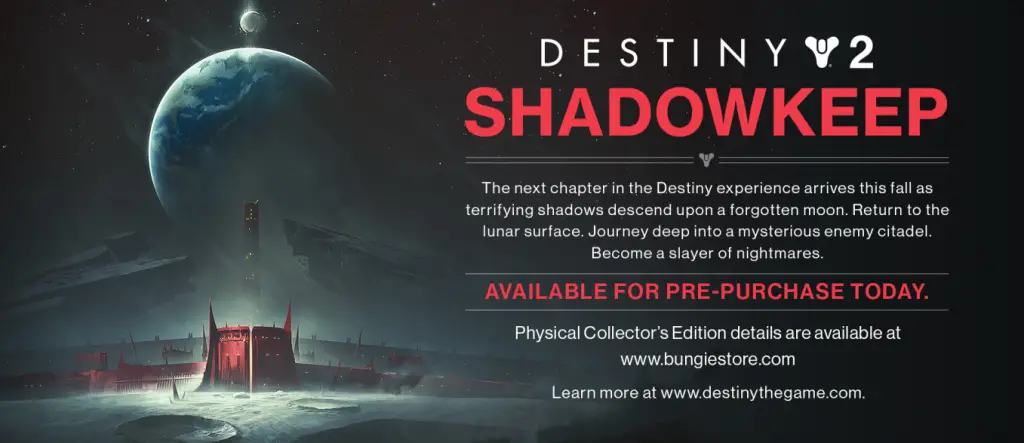 The text in the image indicates that Guardians will be facing a mysterious enemy on Earth's Moon, which has been forgotten about for some time. We're used to facing the Hive on the Moon, but recent teases from within Destiny 2 itself have indicated that we'll actually be facing off against the race of enemies that control the giant dark pyramid-like ships from the end of Destiny 2's core campaign.
Nothing more than this is known right now, but we do see that a new Citadel has risen on the Moon. It looks like it's popped right up from inside the Moon, which doesn't exactly lineup with a new race of enemies, given that they'd be on the Moon's surface. The red colour could indicate a link to the Cabal, but honestly a new race or type of Hive, could also be on the cards. We know from Warmind that the Hive can adapt to their surroundings as they did in the ice of Mars.
We can see that a collector's edition of the expansion is being made available, something that hasn't happened since The Taken King. I personally love a good collector's edition, so this will be something I'll pre-order right away.
This is definitely the next chapter of Destiny 2 that Bungie were hinting at recently, though they weren't meant to reveal it until the 6th of June. It could also be the expansion that kicks off the second Annual Pass for the game.
Let us know your thoughts in the comments.
Image Source: ResetEra