Destiny 2 February Roadmap Updated By Bungie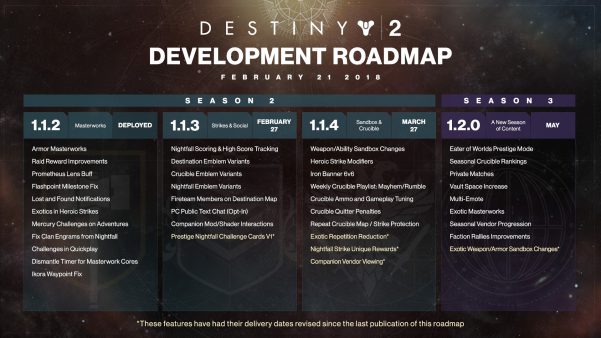 Recently Bungie updated their development roadmap for Destiny 2. The roadmap covered the early stages of February, into March, with a reach into May for speculative development timelines they intend to meet. Let's take a look at that roadmap now and see where Destiny 2 is heading in the coming months.
As a sidenote to the roadmap Bungie noted that Rumble will be added to the Iron Banner roster of game modes, with Doubles returning to the Crucible playlist in the future. Doubles must have proved quite popular during the Crimson Days event, enough that Bungie think it's worth adding as it's own mode.
The first patch will be 1.1.3 was released on February 27th. This added a new type of Nightfall tracking as well as area specific emblems, including Nightfall-specific and Crucible-specific ones. Fireteam members are now also shown on the destination map, very useful if you're all out and about and getting a little split up, particularly in Nightfall events. There's also now PC public text chat, companion mod and shader interactions, and Prestige Nightfall Challenge Cards, which have had their features changed since the last roadmap update, with Nightfall weapons following hot the heels of that update.
The next big update, 1.1.4, will hit on March 27th, a full month after the last one. The update will bring weapon, ability, and sandbox changes to Destiny 2. New heroic modifiers for Strikes will be coming as well, changing up the way that the Heroic Strikes are harder or provide different challenges. These in particular have been the same for a very long time, so it'll be nice to see something new on the playlist. The changes coming to Iron Banner mentioned earlier are also noted here, but with 6v6 matches being updated to include Rumble, obviously. The weekly Crucible playlist is going to be updated with Rumble, and Mayhem Rumble, with some tuning coming to the way ammo is doled out to Guardians in each match. Also coming to the Crucible are quitter penalties, something that's sorely needed but very hard to implement. It'll be interesting to see how Bungie punish those who quit matches when their team starts to lose. Some protection is also being added to avoid Guardians doing the same Strike two times in a row, or play on the same Crucible map two times in a row. This update in March will also come with an Exotic repetition reduction, Nightfall Strike-specific rewards, and the ability to view vendors on the Destiny 2 companion app.
Finally, the roadmap for May, a very long time away in terms of the game's overall development, looks like this. Firstly this will be Season 3, bringing with it a Prestige mode of Eater of Worlds. There will now be rankings for the Crucible on a seasonal basis, something which may bring new rewards specifically for that basis. Private Crucible matches are also finally coming to Destiny 2, something which were incredibly brilliant when they were added to Destiny 1 and have been a big fan request for a while. Vault Space is getting increased too, something Guardians will always want but no mater how much Bungie give us will never be enough. Multi-emote implementation is also planned for this point in the roadmap. Exotics are getting Masterworks versions, which is pretty damn interesting because some of them are definitely attuned more towards PVP than PVE, and vice versa. Vendors will be getting seasonal progression as well, though how this is going to work is anyone's guess. Undetermined improvements to Faction Rallies are also coming during this time. For me the biggest improvement would be to make more Faction armour and weapons available from Engrams from the first week of the live event. Finally, Exotic weapon and armour changes are coming for sandboxes.
All of these changes are pretty decent and it looks like Bungie have the future of Destiny 2 in hand. However, there are still going to be problems that bug the community and which will remain a pain for a while, though a lot of these do come down to weekly weapons balancing. Let us know what you think in the comments.
Image Source: Bungie
Destiny 2: Devils Ruin Review