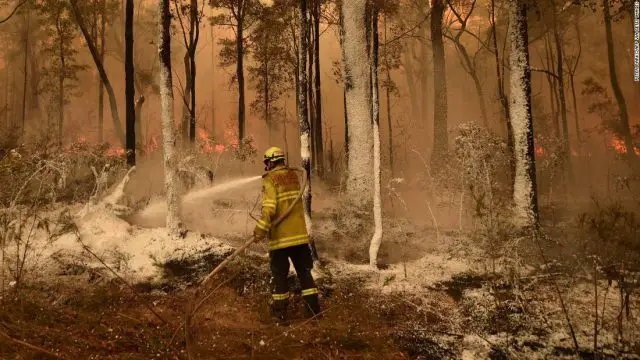 In the most recent This Week At Bungie article, which I thought had released early and completely threw me for a minute until I realised that I was on the wrong day, Bungie has outlined their way of making it not only easy, but fashionable to donate aid to all those affected by the Australian bushfire crisis.
Fashionable Support
Bungie has helped out a load of causes in the past, including those affected by earthquakes in Nepal, Japan, and Haiti, and victims of hurricanes Katrina and Harvey. Now they're doing something similar to support not only the people who have been, and are being, affected by the Australian bushfires, but also all of the wildlife that is completely helpless under the current circumstances.
Bungie is working hard right now to put together a t-shirt design for a product all of us will be able to purchase. As with all Bungie t-shirts, it's going to look awesome, which is why the design is still being worked on, but more importantly it's going to come with the satisfaction of helping others.
The first half of all the profits that the t-shirt generates will go to WIRES, which is Australia's largest wildlife rescue organisation. This is really important because more than 1 million animals have been killed by these bushfires, and really they're the most at risk. Humans and animals have an instinct to fear and run from fire, but animals aren't clever enough to get away in an efficient manner, meaning they might climb a tree that ultimately gets burned down, or falls, killing them. Even though most of the Australian wildlife is truly terrifying, it's so important to save it, because there are numerous species that are indigenous and only exist in Australia.
The second half of all t-shirt profits will go to the NSW rural Fire Service. These are the guys fighting the worst of the fires in New South Wales, and they've really got their work cut out for them. Australia is hot right now, and the fires are only going to get worse as the weather continues to heat up. The fire service can combat some of the fires, but they need resources to keep going, and that means money.
With all of the Guardians out there, Bungie should be able to donate a significant amount of money to each of these charities, but it relies on you purchasing a t-shirt. We don't have a design right now, but it does come with this sweet Emblem.

We'll update you on the 16th of January, when the t-shirts become available, because they'll only be available until the 18th of February. It's important that we all make the effort to get as much money as we can to any charities that will help in this crisis, but if you want something in return, at least you get some in-game content and a t-shirt this way.
We've also reported on the Destiny 2 FANZ community raising money for support of this crisis, please check that article out as well.
Let us know if you're going to buy this t-shirt in the comments.
Image Source: Bungie,