Hand Cannon Vogue: Destiny 2 Fan Art
You know you'd buy these magazines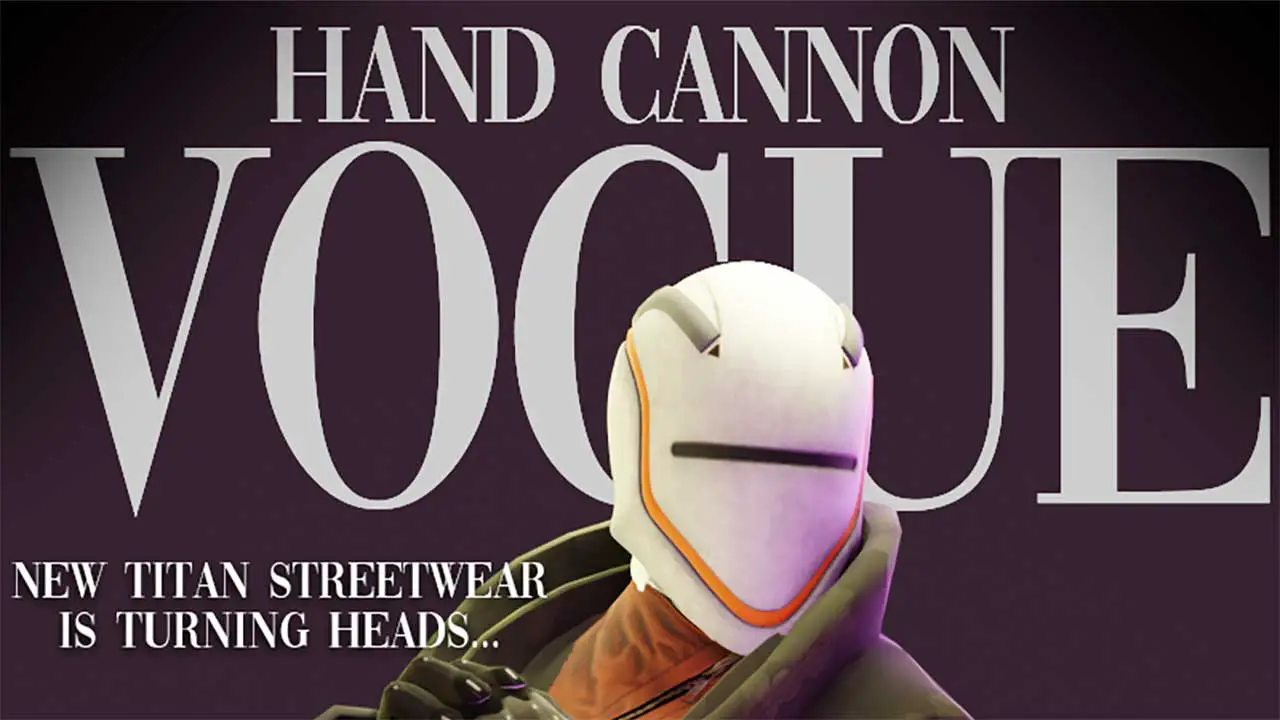 Destiny 2 fan art is one of the most incredible things about this community. Yea, it's great fun playing with you all and conquering insane bosses, and having those really clutch moments pay off, but really it's the fan art I love. This latest fan art is absolutely stunning on a number of levels, but you need to see it to believe it. This is Hand Cannon Vogue.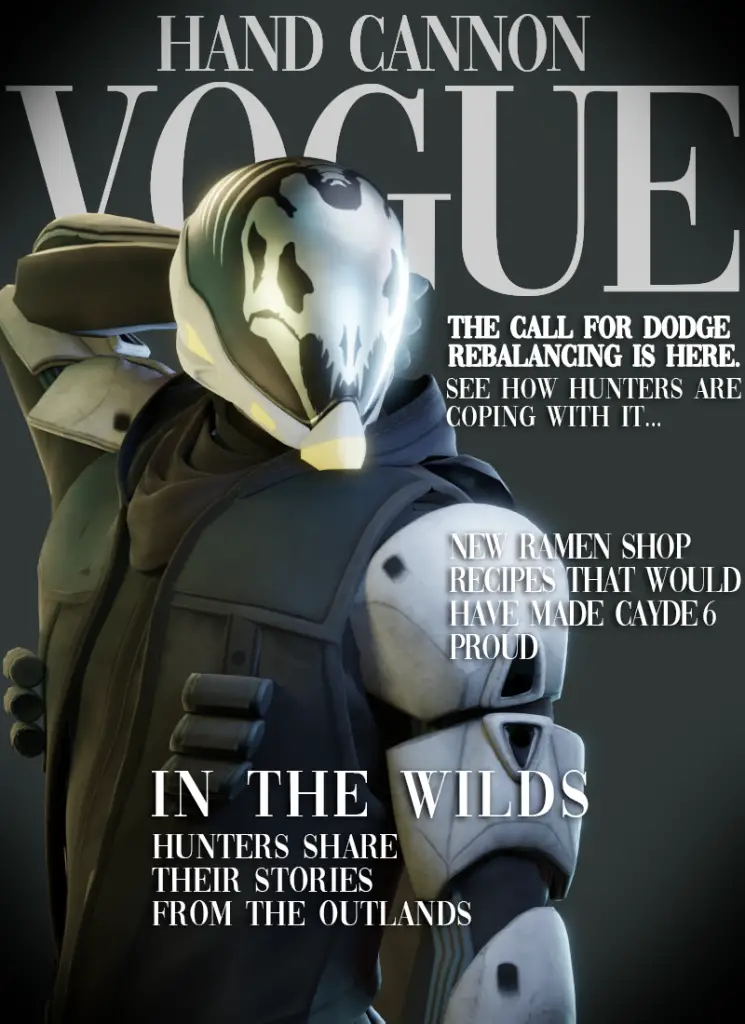 This issue of Hand Cannon Vogue is for the dark and mysterious Guardian. You get some stories from actual Hunters who have been adventuring in the outlands, recipes from the new ramen shop that's just opened up, and you get to hear about how Hunters are coping with dodge rebalancing. This is genuinely an issue of a magazine that I would purchase, but that's because I'm a Hunter main.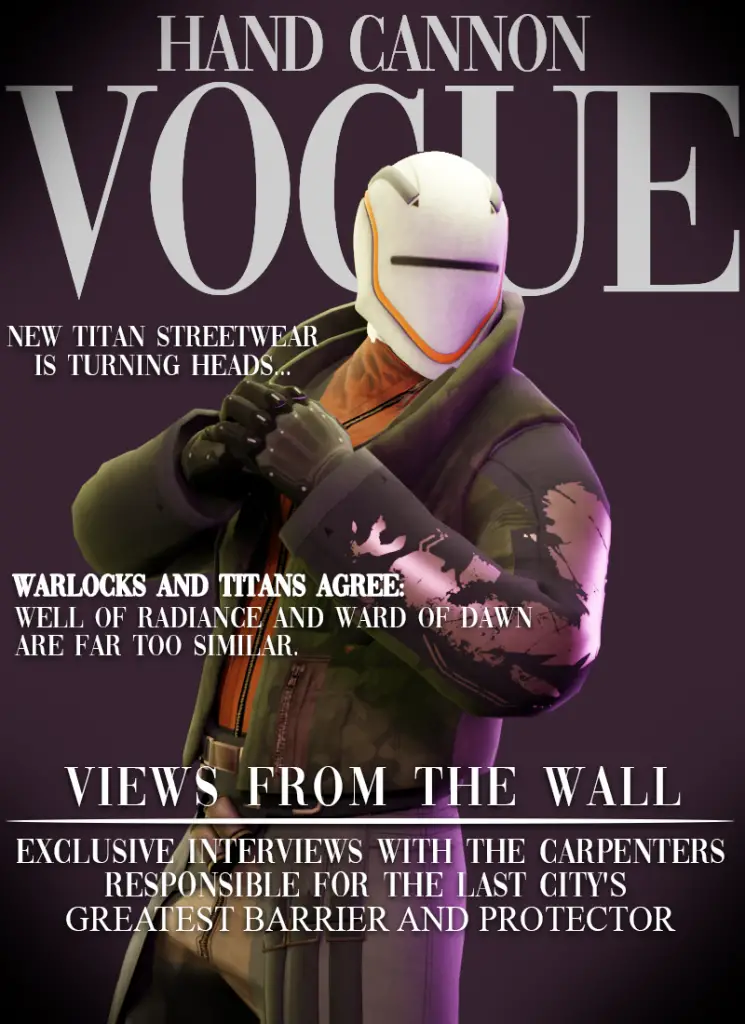 Of course no issue of Hand Cannon Vogue could be as good as the Hunter issue, but this one still looks pretty damn good. We've got a nice feature on Titan streetwear that's getting some attention, and a discussion on something that I think really needs to be explored, how similar Well of Radiance and Ward of Dawn are. Finally, there are some exclusive interviews with the people who actually built the wall that protects the Last City. I really want to hear from those people, mainly about whether they ate their lunch 100 feet up in the air or not.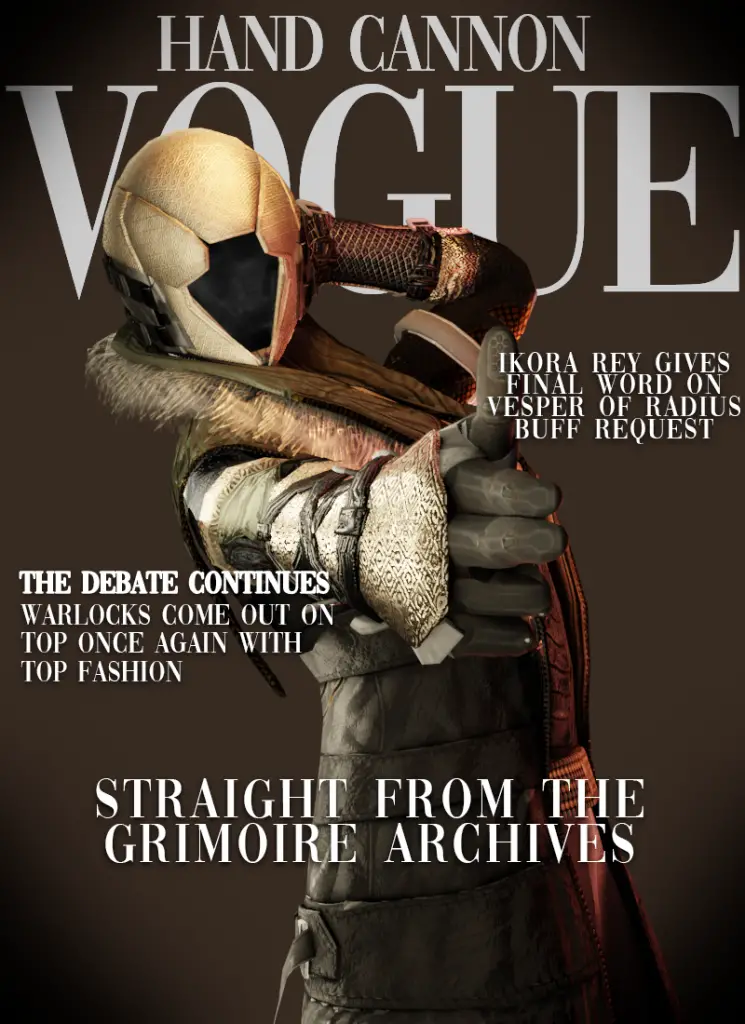 This final issue is one that I reckon I'd pass on in a news stand, but that doesn't make it any less interesting. There's a deep dive into some of the Grimoire archives, a final word from Ikora on the Vesper of Radius buff request, and a special on the debate between which class has the best fashion, Warlocks or Titans. I'm with the Titans on this one, they all look fabulous.
These covers were created by a Guardian called Breadical on Reddit. I don't know of they'll make it into a This Week At Bungie article, but they should. As I've already mentioned, I think these are some of the best fan art pieces that I've seen in a good long while. I can't wait to see the next set of issues.
Let us know what you think of Hand Cannon Vogue in the comments.
Image Source: Reddit
Destiny 2: Devils Ruin Review