Destiny Xur Inventory: Should You Buy The 4th Horseman?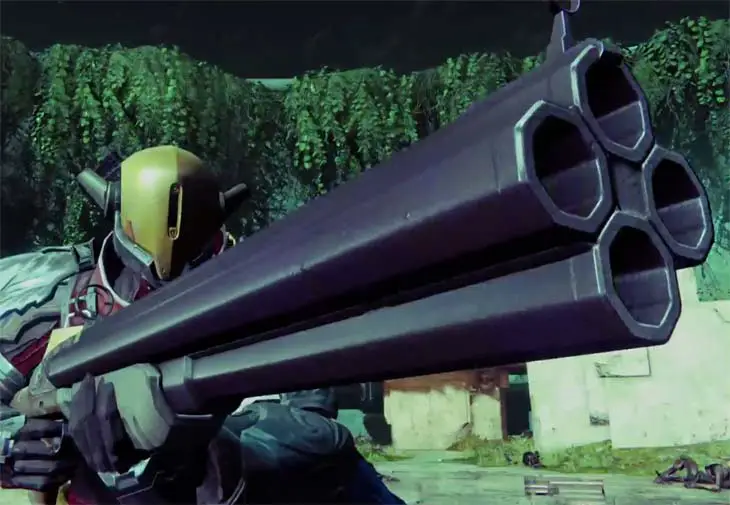 It just so happens that Xur is selling the 4th Horseman this week, but is it a viable weapon to purchase at this point for all you Destiny needs?
The 4th Horseman is a shotgun with arc damage, meaning it's very similar to Invective, though it can't regenerate ammo over time. It has three perks that make it particularly interesting, the first of which is Thunderer and allows the weapon to be fired in full auto. As you can imagine, for a shotgun this is pretty devastating to both your aim and you enemies. On the one hand you're almost guaranteed to get a kill by holding down the trigger, but the recoil will be so bad that you'll be staring at the ceiling by the end of it, leaving you open to pot shots from hidden enemies.
A second perk works in conjunction with Thunderer to help alleviate the stress of wanting to release your entire clip in one go, Final Round. This perk makes the last round in the clip deal additional damage, meaning that if the first three shots didn't kill your enemy, this last one will. When using the shotgun it never feels great to fire in full auto, except in a pinch, so the rest of the time you need to be running around with the last shot in the barrel ready to go. This shot should kill an enemy, though in PVP it might be a bit trickier, and it won't blast so hard that you're staring at the ceiling like you've just woken up from a hard night out.
The final perk that works in this weapon's trio to make it one of the more interesting exotics is Return to Sender, meaning each kill you make has a chance to return ammo to the magazine. Again this is an incentive to not fire the shotgun in full auto, and reserve that use for dire situations. The key to using this perk is to ensure you're always on one bullet, run around the arena, make a kill, and hope that this perk kicks in and gives you another round to continue running around with. The additional damage will still apply to this cheekily-gained final round, and you'll be an almost unstoppable killing machine.
Obviously all three of three of these perks are brilliant for PVP, and the shotgun is pretty much made for use in the Crucible. However, in PVE you will find that being able to deal a huge amount of damage at once with that full auto perk is wonderful in the right situations. The real key to using The 4th Horseman in PVE is to keep it in reserve with that one round in the chamber. Special ammo is plentiful enough here that you don't need to grieve the loss of every missed shot. Keeping the weapon in your special slot with that one round that could kill a sun is going to save you when an Ultra tries to rip your face off after your Primary fire has left it with a quarter of its health. We recommend The 4th Horseman to anyone who ventures into PVP, but even if you're sole interest is PVE it's got some charms that could make it invaluable to your loadout.
Image Source: ProductReviews
Destiny 2: Devils Ruin Review