How To Get All 6 Class Specific Weapons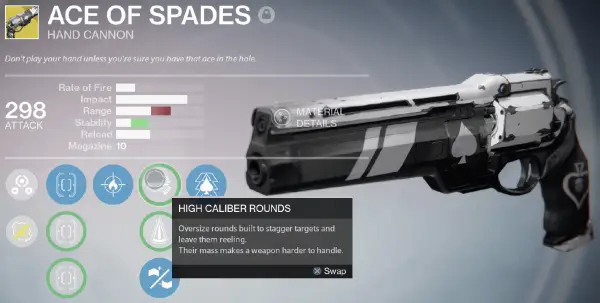 Ever since the launch of The Taken King the Gunsmith has been offering Guardians the chance to earn reputation with him. This reputation leads to weapon orders for prototype Legendary weapons, some of which are well worth trying out. This isn't all however, as sometimes he'll offer up a quest, an opportunity to earn something more from him, something exotic. This is the beginning of class-specific exotics, one for Hunter, Warlock, and Titan, and all three will be needed in order to complete the Age of Triumph record book. Here is a quick guide as to how to obtain these weapons, but be aware that in the background you should probably be paying the Gunsmith a bit of attention already, to rank up in the meantime if nothing else.
Step 1: reach rank 2 with the Gunsmith
This step is pretty self-explanatory, you need to earn enough reputation with the Gunsmith to reach rank 2. This can be done by earning reputation in Golden Age Relic drops, or by completing the weapon tests he sets each week. You can complete up to five each week, so it's worth doing that now if you want a chance of earning the goodies.
Once you reach rank 2 you'll receive the Back in the Saddle quest, which will lead to a Legendary class-specific weapon, Susanoo for Warlocks, Immobius for Titans, and Stillpiercer for Hunters.
Back in the Saddle
The first part of the quest tasks you with killing enemies with a certain weapon while a certain telemetry is active. The second part of the quest requires you to gather weapon parts from Rare or Legendary weapons of the type that the eventual Legendary you'll receive is, Shotgun for example. You need to dismantle 10 weapons to gather all of these. This is how you obtain the Legendary class weapons, but those exotics are what matters.
Rinse and Repeat
The Gunsmith will task you with doing the same as above, though this time it's primary weapons with primary telemetry. You'll have to dismantle rare and legendary weapons once again to get 10 weapon parts, and afterwards you'll be rewarded with the following.
Tlaloc is a Warlock exclusive exotic Scout Rifle. The exotic perk, Overflow, increases handling, rate of fire, and stability while the user's Super is charged.
Fabian Strategy is a Titan exclusive Auto Rifle. The exotic perk, Front Lines, increases handling, stability, and rate of fire when enemies are close. Kills will also partially reload the magazine, making for very easy killing.
Ace of Spades is a Hunter exclusive hand cannon. The exotic perk, Maverick, moves one round from your ammo reserves to the magazine when you land a precision kill.
Image Source: PlanetDestiny
Destiny 2: Devils Ruin Review