An Overview of the Very Basic Destiny 2 Season of the Lost Roadmap
We're basically guessing at this point.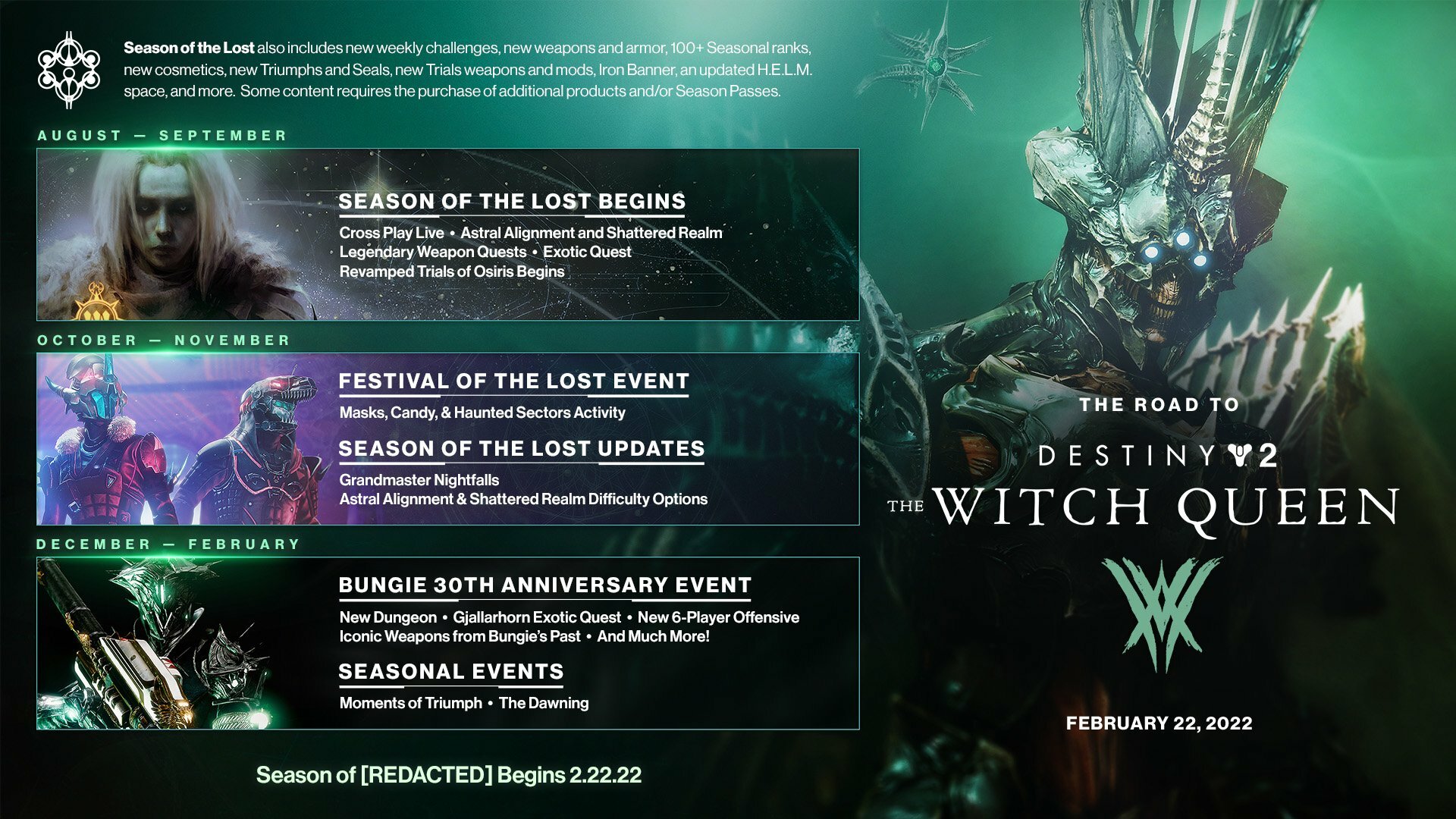 Bungie has been pretty slack with an actual roadmap for Season of the Lost up until now. all we've had is the vague image that's at the top of this article, and, to be honest, it's far from what we want and need. Usually, we've got details about the new events hitting the game, the exact timings, and any surprises like new weapons that might be dropping. However, Bungie is being slightly more mysterious with this season, likely because it didn't plan on having this season happening right now, but there we go. In this article, we're going to give you an overview of the incredibly basic Season of the Lost roadmap that we do have. Please note that there are no timings.
Season of the Lost Begins
Well, this has already happened. The season launched and brought a new seasonal quest, seasonal item, Exotic weapon, activity, cross play, and all the stuff that we've been enjoying. It also brought a massive improvement to Trials of Osiris, which has been something that Guardians have been enjoying with real gusto of late. Honestly, this has been the best launch of a season that I've ever seen, and I have no doubt that it's going to continue to be this big from here on.
Festival of the Lost and Season of the Lost Updates
We all know what Season of the Lost is about. We get a spooky new Tower and a spooky returning activity to venture into, The Haunted Forest. However, this year we've got a chance at earning the amazing dinosaur armor that was voted for by all Guardians last year. This is the first year that the community has had an impact on the armor we're earning from an activity, so it should be pretty great. Even if it's all the same, the rewards are ours through and through.
The seasonal updates include Grandmaster Nightfalls and new difficulty levels for the seasonal activities we've been enjoying. This should happen around October, but I couldn't tell you exactly when. Bungie seems to be winging it with this season's dates. That, or it wants to be deliberately mysterious to keep us all guessing.
Bungie 30th Anniversary Event and Seasonal Events
These two events will almost certainly happen from November onwards. The Bungie 30th Anniversary Event is all about celebrating Bungie, and that will probably last until early 2022 with loads of Bungie-themed content to earn. The Dawning and Moments of Triumph will, as always, return for the Christmas period. This will keep every Guardian engaged while there's nothing else going on in the world. Make sure you still see your family though.
Destiny 2: Devils Ruin Review