Xur's Inventory for January 3rd and 4th 2017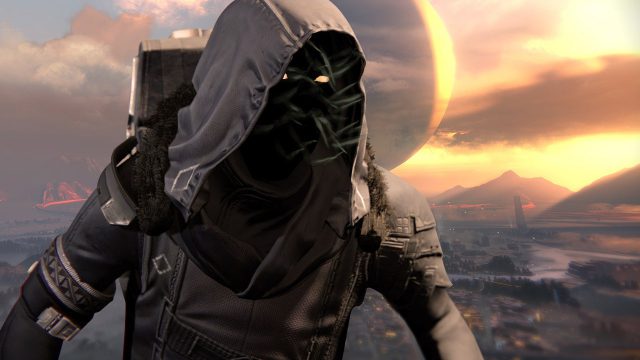 Who is Xur?
Xur Agent Of The Nine, works for the mysterious group, The Nine. While Guardians have never seen The Nine, it is said that their influence is vast. Xur, the moss-tentacle-faced vendor visits social spaces once a week, bringing with him a variety of exotic items, which Guardians can purchase with Strange Coins.
Xur's Location
Xur is hiding out near the Speaker this week. Head left immediately from spawn at The Tower, make your way down the stairs and towards the entrance to the Speaker's chamber. Don't go in and see the white-faced fellow, instead walk past the entrance and head to the railings at the far end, where you can find Xur staring wistfully out at the last city on Earth.
Xur's Inventory
Exotic Weapon: Invective (Exotic Shotgun) 23 Strange Coins
The Exotic perk for Invective is, Invective! This perk allows the gun to regenerate ammo over time, much like Icebreaker but with far less range.
Invective is interesting because you can fire it at full auto, which basically means you can spam all the ammo in the clip at once. This should result in the demise of your opponent, but you have to watch out for the kickback on this thing, which is so brutal it may leave you staring at the ceiling after making a kill in the crucible.
Exotic Helmet: Helm of Saint-14 (Warlock class) 13 Strange Coins
The exotic perk on this helmet is Starless Night, which means that your Ward of Dawn blinds enemies when they enter it, perfect for PVP. This week it's a roll of Intelligence: 58, and Strength: 63, which is a very low intelligence roll for this helmet, with a maximum of 104 available, but the strength roll is perfect as it's nearly the max.
Exotic Leg Armour: Radiant Dance Machines (Hunter Class) 13 Strange Coins
The exotic perk on this armour is The Dance, which allows you to move much faster while aiming, perfect for those who like to dart out of corners for quick kills. This weeks roll is Intelligence: 70, with a maximum of 79 available, and discipline 74, out of a maximum of 79. Overall this is a very good roll for this armour, and they look great on any Guardian.
Exotic Helmet: Skull Of Dire Ahamkara (Warlock Class) 13 Strange Coins
The exotic perk for this helmet is Delusions of Grandeur, which means you take reduced damage while using Nova Bomb, and have increased energy rain abilities. This weeks roll is Strength: 101, which is extremely close to the max of 104. For anyone running a strength built this is a must have addition to your Warlock.
Legacy Engram: (Exotic Leg Armour) 29 Strange Coins – The Legacy Engram will decode for a Year 1 or 2 piece of armour to complete your collection. Some of these items can be infused to Year 3 Light Level.
Three Of Coins (Consumable) 7 Strange Coins
Plasma Drive (Consumable) 23 Strange Coins
Emerald Coil (Consumable) 23 Strange Coins
Heavy Ammo Sythesis Consumable) 3 Strange Coins
Glass Needles (Consumable) 3 Strange Coins, 3 Motes Of Light, and 1 Exotic Shard
Our Take
This week there are a good number of pieces of armour with near maximum stats on. For those who have reached level 40 and are at Light level 400, leaving them to work only on the more specific aspects of their Guardians, this is a great week. Personally I don't run with Invective much, because Icebreaker is a far better option for my play style, but if you use shotguns a lot the I would highly recommend it. 
Destiny 2: Devils Ruin Review