Destiny 2 Mega Bloks Sets May Reveal Future Story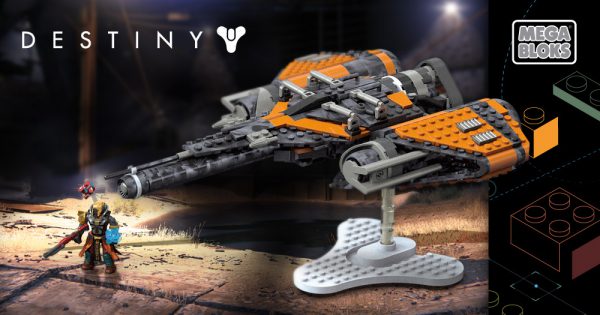 This week has been fairly quiet on the Destiny 2 news front, but since this is the first article in the series I thought we'd recount some of the biggest Destiny 2 news to date.
First of all we know that at the very least that Bungie will announce and reveal Destiny 2 this year. According to the leaked content plan, a picture of which made its way around the Internet just after Destiny's launch, 2017 is the year Destiny 2 is announced. So far Bungie have stuck to their guns on this plan, so we have to hope that they'll follow through on this part also.
The most recent leak however, if you can call it a leak, comes from Amazon accidently publishing listings for Destiny 2 Mega Bloks sets. The listings, which have since been pulled by Amazon, featured names of unknown classes of enemies in the Destiny universe. It's unlikely that these sets are a hoax, since a lot of marketing work goes into their creation, and it's very hard to believe that Amazon would let even one product with fake details and photoshopped images through into their product listings, especially from such a well-known brand, let alone three!
The first of these Mega Bloks sets was named Destiny Cabal Goliath Tank Building Set. The set featured a buildable Cabal Goliath Tank, with articulating rotating turrets. The tank would open up to reveal an interior troop bay, and come with four highly detailed micro action figures to go inside, including Cabal Phalanx, two Cabal Psions, and Commander Zavala of the Vanguard. Zavala was said to come with detachable armour, and the Legendary Auto Rifle An Answering Chord. The Cabal on the other hand, were set to have detachable Siege Dancer Armour, weapons, and a shield accessory.
Most, if not all, Destiny players will know about everything in this set, though no one has ever seen Commander Zavala leave The Tower. Could this have been alluding to a story scene in Destiny 2?
The second Mega Bloks set was named Cabal Bruiser Battle Building Set, and featured an entire Buildable Hangar Platform. The hanger in this set was said to be the hanger in The Tower, where a legendary warrior would face his greatest contest yet. The warrior in question was Cruicible Lord Shaxx, wielding Raze-Lighter. Owners would be able to battle Shaxx against the furious cleavers of a Cabal Red Guard, a military group never before heard of in the Destiny Universe.
This set is the most interesting, because it makes a lot of sense within the context of Destiny lore, and it's something that's been teased for a long time by Bungie, a Cabal attack on The Tower. The Cabal attack head on, it's just their way. When they can't beat something, they smash a ship into it, as is the result in The Dreadnaught, part of The Taken King expansion for Destiny.
There hasn't been a major Cabal expansion for Destiny ever, but every other race of The Darkness has had one, so it would make sense for the Cabal to be the main race in the next one. If the Cabal did attack The Tower, it would be devastating, so much so that it may mean the end of The Tower and the Last City on Earth, unless the Traveller does something about it. Throughout the story of Destiny players have seen evidence of the Traveller healing, regaining at least a small part of its power. A Cabal attack would be the perfect crescendo for Destiny, leading into Destiny 2, and give players some sense of narrative fulfillment in the process.
Finally, we have the Aspect Of Glass Building Set. This set was said to contain a Buildable Aspect of Glass jump ship, a ship players can get in the game, with a cockpit that opened and a working launcher, presumably to make it fly. A Hunter micro action figure was the pilot for this set, and cam with detachable Spektar armour, and the Legendary shotgun Lord Of Wolves.
As far as leaks go this one seems to have the most truth behind it. The question is, will we see more of the Cabal Red Guard at E3 2017?
Image Source: HiDefNinja
Destiny 2: Devils Ruin Review