Xur Location Destiny 2 – December 22nd to 26th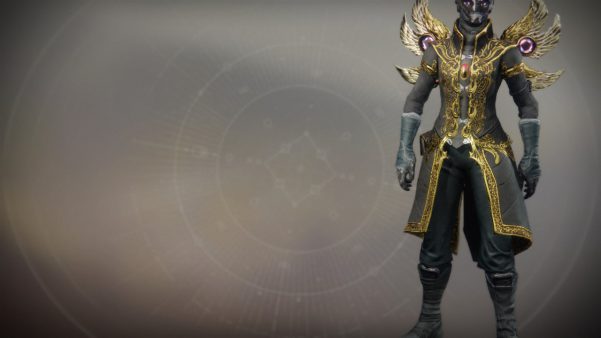 Xur has arrived once again in Destiny 2 to sell some Exotic wears, this time he's on Titan right near The Rig fast travel point. This is the second to last time he'll be appearing in 2017 but it's also the time for doing some Christmas shopping with him, especially with The Dawning going on right now. But what's he brought with him?
Riskrunner Exotic Submachine Gun – 29 Legendary Shards
Riskrunner is a really interesting weapon, firing 900 Rounds per Minute, Impact of 20, Range of 55, Stability of 60, Reload Speed of 42, and Handling of 51. The hidden perks are Zoom of 12, Inventory Size of 36, Aim Assistance of 50, and Recoil Direction of 94. Now these stats alone tell a lot about the weapon, and that firing rate is no joke. I've used this weapon and it completely decimates enemies despite the poor Impact.
In terms of Perks the Exotic Perk for Riskrunner is Arc Conductor, which increases damage when taking Arc damage and simultaneously increases Arc resistance. Any kills while the weapon is in this overcharged state only prolongs the Perks effects. Arrowhead Brake greatly controls recoil and increases Handling Speed, Extended Mag increases Magazine Size while decreasing Reload Speed slightly. Superconductor grants a chance to chain lightning and return ammo when Arc Conductor is active, and finally Short-Action Stock greatly increases Handling Speed.
This is a really great weapon that you should have in your collection regardless of how you play. It's quite effective when being used against Fallen Walkers up close, but any enemy that uses Arc damage will only aid their demise when you're blasting them with this.
Hunter Leg Armour: Lucky Pants – 23 Legendary Shards
This Hunter Leg Armour has the Exotic Perk Illegally Modded Holster. This loads one round into the chamber of stowed Hand Cannons when you make a precision hit. The Leg Armour also increases Mobility and Resilience.
Titan Gauntlets: Doom Fang Pauldron – 23 Legendary Shards
These Gauntlets increase Resilience and Health Recovery, and they look badass with their purple highlights. The Exotic Perk, Horns of Doom, recharges your Shield Throw when you make a kill with Shield Bash. Melee kills will also recharge Sentinel Super Shield.
Warlock Chest Armour: Wings of Sacred Dawn – 23 Legendary Shards
These are possibly the best looking bit of Chest Armour in the entirety of Destiny 2. The Armour increases Mobility and Health Recovery, and the Exotic Perk, Tome of Dawn does a lot more. The Exotic Perk suspends a Guardian in midair when they aim while in midair with Dawnblade equipped. Precision hits during this time will extend the effect.
In all honestly I would purchase the Wings of Sacred Dawn regardless of your main class because they look brilliant. However, if you're picking up some new Exotic gear for your main character then try to go for that, though Lucky Pants are pretty prevalent for Hunters so you might want to work on your collection for other class gear. Riskrunner is a must have weapon if you don't have it. As far as Submachine Guns go it's got to be the best one I've used, if not one of the best in the whole game. Let us know what you think in the comments.
Image Source: DestinyTracker
Destiny 2: Devils Ruin Review