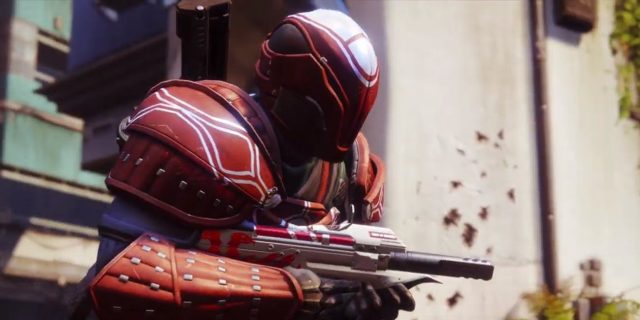 After a long time of every Guardian getting annoyed with them, Bungie are finally nerfing The Recluse and One-Eyed Mask. They announced the good news in their This Week At Bungie article, and personally I couldn't be happier.
The nerfs are part of an effort to change the meta in Destiny 2, and make things fairer on those of us who just can't help dying to every Guardian with either The Recluse or that bloody awful Exotic Helmet, One-Eyed Mask.
For The Recluse, Bungie has changed the way Master of Arms works. There's now absolutely no precision damage modifier, so it's much more on a par with other weapons. There will still be a damage bonus for The Recluse from Master of Arms, it just won't default to precision values when the perk activates. This change is necessary because it's currently easier to spray The Recluse and kill enemies than it is to aim down sights and get precision hits. Bungie has left the effect on The Recluse because they deemed it better than removing the buff completely.
Now for One-Eyed Mask. The Helmet's Vengeance effect has been changed. Now Guardians won't receive an overshield when they kill an enemy that damaged them, which is a key part of what makes it so helpful. As of next season, One-Eyed Mask will still give Guardians health regeneration when killing an enemy that has damaged them, but that overshield is long gone.
These two nerfs are going to make a huge difference to the PVP in Season of Dawn, the next season coming to Destiny 2. Right now it's impossible to jump into a match in the Crucible without encountering at least one of these items, and sometimes you even see them in Gambit.
There will definitely be a part of the Destiny 2 community who hate these changes, because they're ruining their best gear. However, Bungie has been slow to act on these, and they've even made changes to each item previously. The nerfs coming next season are a direct result of Bungie paying attention to us, and to be honest I'd rather have that than see these items reign supreme in the Crucible for another season.
Let us know what you think of these nerfs in the comments.
Image Source: Inverse