Sunshot, Sweet Business, and Riskrunner – Some of the Exotic Weapons in Destiny 2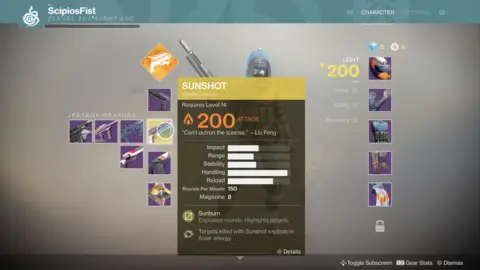 Destiny has a whole pile of Exotic weapons for Guardians to gather, horde, and barely use in all of the activities the game has to offer. Destiny 2 will be no different, and now we have the opportunity to check out three of the Exotic weapons coming with Destiny 2. These weapons were class exclusive in the Destiny 2 reveal event but there's no confirmation as to whether they are specifically class exclusive. The classes mentioned below are the ones that simply held the exotic weapon to give you an idea if they are class exclusive.
Sunshot – Hunter Exotic Hand Cannon
Obviously Hunters get the Hand Cannon, that's just the class they belong with and you can't really argue with that. This gun is Solar powered, which should also be obvious given the name. The weapons deals 200 damage, at the moment anyway because we don't know about the infusion process if there even is one. The weapon also fires 150 rounds per minute, which sounds more like a machine gun but it definitely isn't, and that fact alone makes it awesome.
The perks for this weapon are Sunburn, which produces explosive rounds that are said to highlight targets, and Sunshot, which makes enemies explode in Solar energy. I can't really get my head around just how good this is going to be in PVP. Here you have a way to highlight your enemies, and there are explosive rounds going off as standard. Couple that with an explosion every time you kill an enemy, and you've got team kills stacking up in your mind already.
Sweet Business – Titan Exotic Auto Rifle
This exotic Auto Rifle sounds like it's Void powered, but it could as easily just be Kinetic which is just fine. The weapon deals 200 damage and fires 360 rounds per minute, which is pretty phenomenal and worthy of an exotic weapon.
The perks for this weapon are Payday, which increases the hip fire accuracy as well as the total ammunition its magazine, and a Placeholder perk that currently isn't named, but it boosts the rate of fire and range when you hold down the trigger. Additionally any ammunition that is picked up will be automatically loaded into the magazine.
Riskrunner – Warlock Exotic SMG
This SMG also does 200 damage, but it fires 360 rounds per minute, just under the Auto Rifle Sweet Business which is nothing to be shunned. This weapon seems like it does Arc damage, so it may be that it doesn't just belong in the Kinetic Weapons slot. As the first exotic SMG we're getting a look at, this is pretty awesome.
The perks for this gun are Arc Conductor, which increases the weapon's damage when you take Arc damage, and another unnamed perk which works alongside Ar Conductor, giving bullets a chance to become chain lightning when the other perk is active.
These exotic weapons look pretty great and are a good start to what I'm sure is just an entire mountain of elusive loot to chase after.
Destiny 2: Devils Ruin Review