Seasonal Challenges Are a Game-Changer For Destiny 2
There's no need to find a reason to play anymore.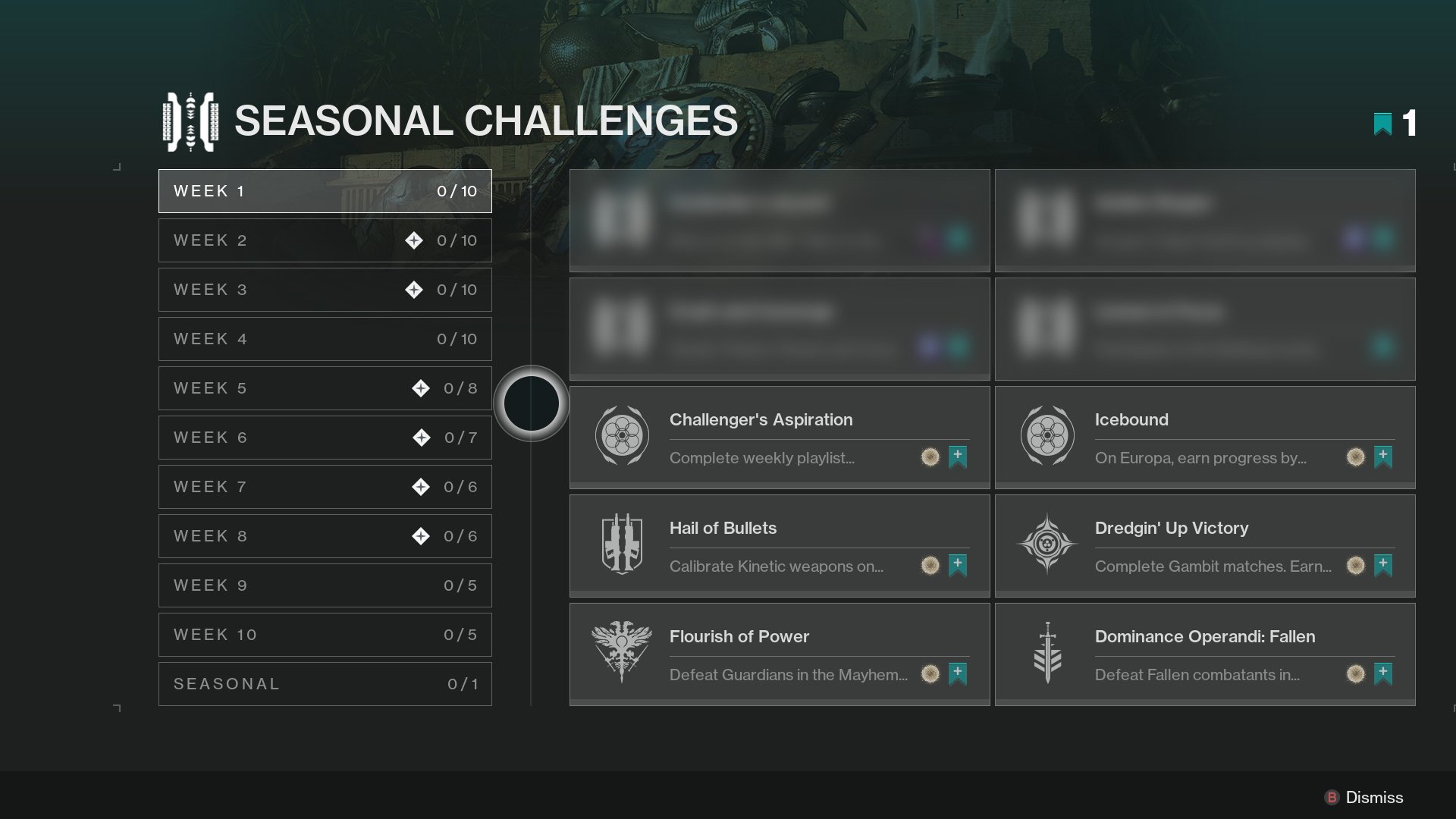 Season of the Chosen introduced Seasonal Challenges to Destiny 2. Initially, I didn't see the point in these. They looked like more Triumphs that I wouldn't bother completing. I expected them to sit there doing nothing for the rest of this season. However, I was very wrong, and now I'm here to tell you why these are a complete game-changer for Destiny 2.
As Bungie has already explained, we'll be getting a new page of Seasonal Challenges for every week of the first 10 weeks of this new season. Each one is packed with things to do, and they're not impossible tasks that take a season to complete. On day one of Season of the Chosen, I already smashed out one for killing Fallen around the system.
These actually contribute to your War Table rank, which is essential to upgrade so you can buy the new Exotic ship that's lurking there. Of course, you get experience and other rewards, all of which are essential for getting though the season pass. I think that there's more to these though.
When I stopped and looked for something to do in Destiny last night, I just looked to these challenges. Sure, there are loads of things I could be doing, but smashing these out seems like an achievable goal I can complete each week. It's crazy that something so simple has changed Destiny 2 for me, but it's totally reignited my passion for the game.
Obviously, seasonal challenges aren't anything new to games. Fortnite had these years ago, and Apex Legends has them now too. I thing that Bungie must have used these as a trial, but I hope they keep them after this season. They're such achievable goals, and focus what I'm doing so that I keep playing for longer and feel like I'm actually achieving something.
Destiny 2 is a game that's usually relied upon Guardians taking on the long grind. IF you're in it for the distance, you can get a lot out of the game. Those short-term goals have always been lacking though. They were always few and far between, leaving big gaps in content for many of us. With Seasonal Challenges, I'm rearing to go every time I load the game up.
Let us know what you think of these new challenges in the comments.
Destiny 2: Devils Ruin Review