What Are Seasonal Challenges In Destiny 2?
Finally, a decent way to be guided through each season!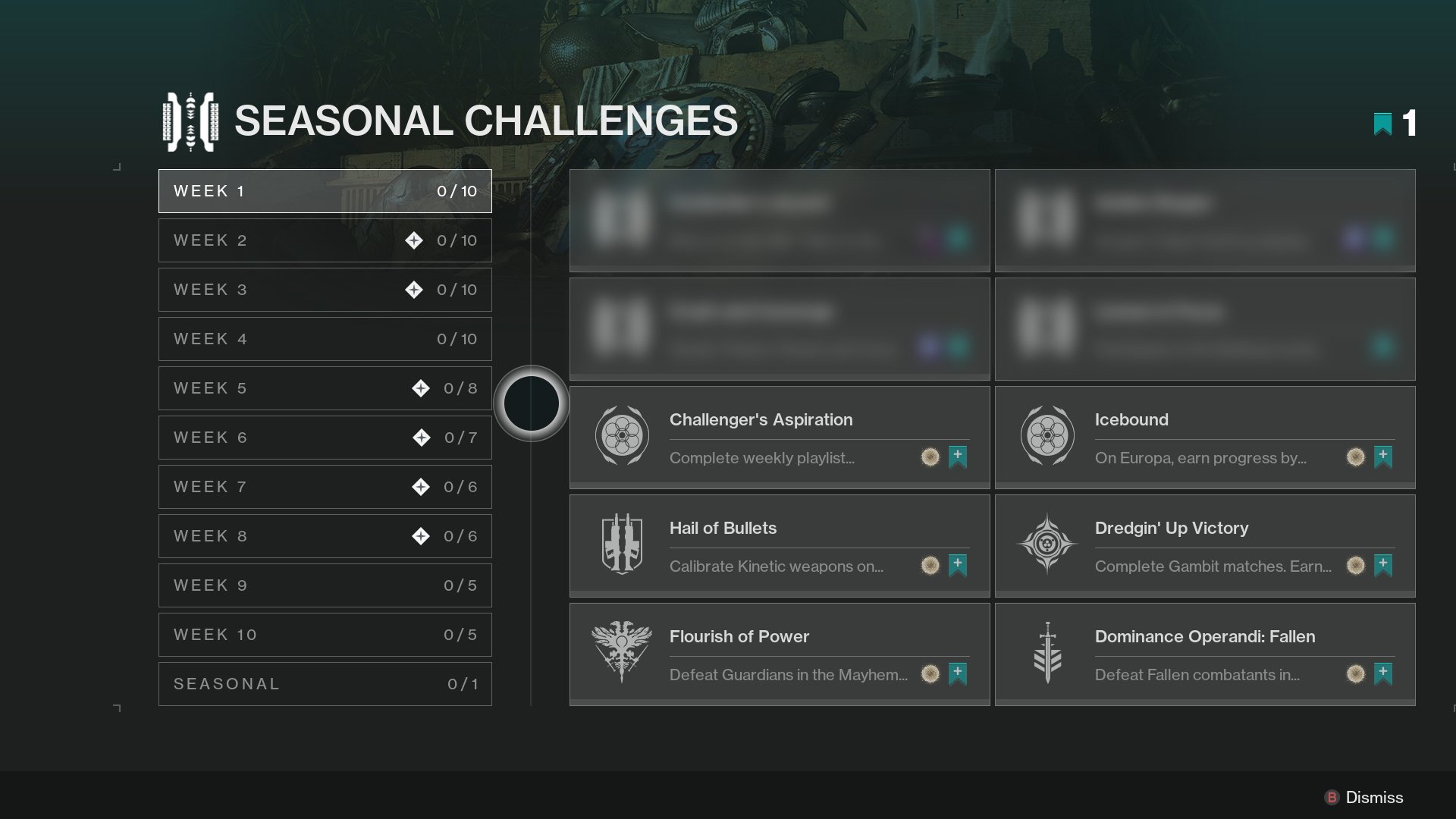 There's no denying that Destiny 2 is a game that gives Guardians some serious FOMO (fear of missing out). I feel it all the time, and sometimes it forces me to get in and play just to feel like I'm getting something out of it. Other times though, it's a huge turn off. It pushes me away from the game because I feel like no matter how much I play, I'll never get everything that I want. Thankfully, Bungie is taking a step towards fixing this.
Seasonal Challenges
Now, when we all open up the Director in the next season, we'll be greeted with a new Seasonal Challenges menu. These are a new set of tasks that can be completed over the course of a season. New ones are added for the first 10 weeks of a season, and after that, they'll just be there to work through.
These challenges are made up of activities that you'll do in the game anyway, but also some that you won't. Bungie says that roughly 60% of all of these Seasonal Challenges will require the Season Pass, but that means that 40% are open to all Guardians.
For the Guardians who login everyday and play, this does mean that you'll only be getting one or two challenges every week. you'll probably smash them straight away, but at least it's something to work towards right?
For Guardians who only login at the weekends, not even every weekend, this is great. It gives us all something to chase when we're in the game instead of floundering around for ages figuring out what we're meant to do.
Thankfully, this also removes bounties from Vendors who have felt a little pointless, but the Bright Dust and other rewards will still be there.
Effectively, you could login to Destiny 2 10 weeks into a season and have all of the challenges there to complete. It's crazy to think that finally there will be some sort of system for helping Guardians work through everything. It's also going to ensure that everyone gets to witness some part of the seasonal content, which is always a big source of FOMO.
The challenges aren't all going to be nuts, some will be pretty simple. You might be tasked with killing Primeval Envoys in Gambit, killing enemies in a Nightfall: The Ordeal, gaining Infamy and Valor ranks, or winning rounds in Trials. It's all open for Guardians to take on if they fancy it.
I'm pretty excited to see this change in Destiny 2. Let us know what you think about Seasonal Challenges in the comments.
Destiny 2: Devils Ruin Review