Last Week Was The Best For Trials Participation Ever In Destiny 2
That's a lot of Guardians.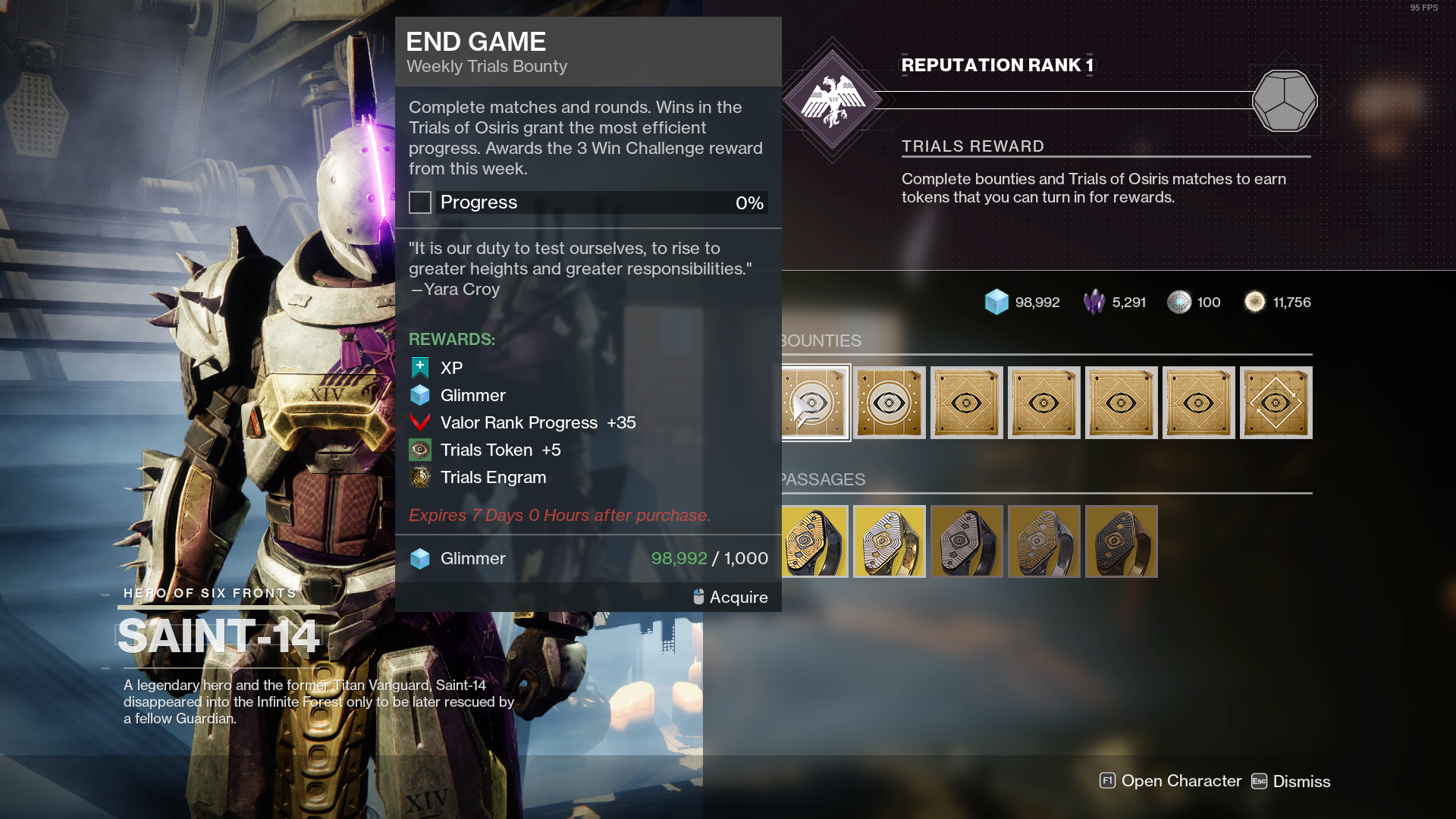 I'm not one to play Trials of Osiris very often. In fact, I barely play it at all. However, I do understand that for those who really enjoy the PvP aspect of Destiny 2, it's the pinnacle of all activities in the game. Funnily enough, last week saw the most Guardians participating in this game mode in Destiny 2's history. It's pretty astounding how many of you were actually in there, so let's get into the numbers.
As pointed out by Crashnburn on Reddit, 365,759 Guardians participated in Trials of Osiris, and that was only as of Monday. There was still a full week to go, pushing that count even higher. The previous best count for Guardians participating was in the first week of the activity's launch, seeing 358,866 Guardians jump in on the action.
It's All for the End Game
Here's the thing, this isn't a sustainable level of Guardians to rely on. You can track the increased number of participants back to a single bounty, End Game. Saint-14 was offering this bounty, and it was a guaranteed win for anyone. All you had to do was pick up the bounty and a passage, then complete rounds in Trials of Osiris. Wins are obviously better, but completion counted as well. Once the bounty was complete, Guardians were awarded Igneous Hammer, the best 120 Hand Cannon in Destiny 2.
Bungie effectively handed everyone a chance to get one of the best weapons in the game here. No wonder Guardian numbers spiked like they did. It's great to see, but it won't last. Not unless Bungie makes a habit of putting these incredible rewards out there for literally any Guardian to grab.
I do think that it's quite interesting that this happened just as Bungie is looking into how to fix the plethora of issues in Trials of Osiris. Between the glitches and win-trading, I think the developers are probably using the increased activity to monitor how Guardians play so that they can prepare some workarounds for the future.
With that said, there's nothing wrong with making a weapon this readily available. Thanks to that one bounty, thousands of Guardians who have never participated in the pinnacle PvP activity have now tried it at least long enough to complete the bounty.
Let us know what you think is going on behind the scenes in the comments.
Destiny 2: Devils Ruin Review