Destiny 2 Curse of Osiris Livestream #3 Cancelled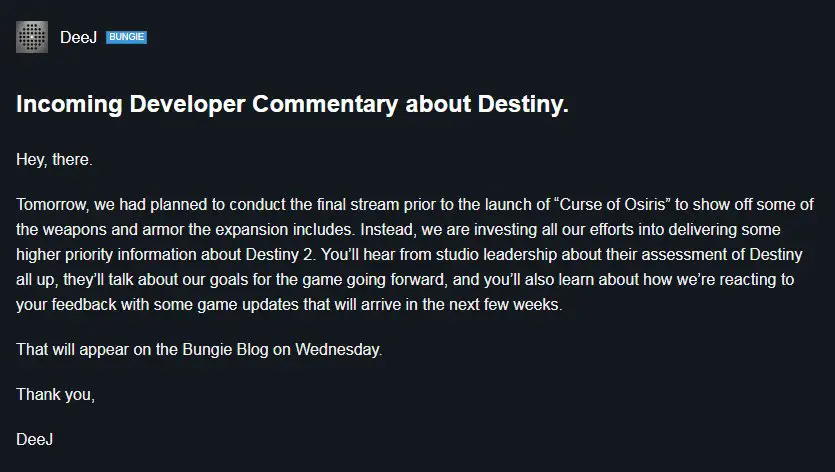 Tomorrow Bungie were scheduled to have the last of their three livestreams detailing the upcoming Expansion, the Curse of Osiris. However, it now seems as though this livestream has been cancelled in favour of a blog post.
The final livestream was set to discuss and show off the things we can earn in the new expansion, and the way it's changing how we earn rewards from activities. Unfortunately that stream is cancelled and instead an in-depth blog post will be appearing on the Bungie blog that goes over the same details, as well as more information about the state of the game and quality of life for Destiny 2 players following the launch of the expansion.
In the blog post Bungie want to talk about their goals going forward with the game. Destiny leadership will discuss their priorities moving forward and what the game will look like when Curse of Osiris launches, as well as the state of the game in the weeks afterwards.
While it's a shame we won't get to see what the quality of life in Curse of Osiris will be like I think we can make some educated guesses over some of the changes that are coming . Bungie recently made a big change to the way XP is earned in the game, which directly affects the rate at which Bright Engrams are earned.
Before the change greater amounts of XP were rewarded for harder activities such as Raids and the Nightfall Strike, while XP would gradually decrease in terms of the amount earned for smaller activities every time an activity was completed. Now XP has been halved across the board which has upset a lot of people. I think that the developers will be talking about how XP changes will affect their activities in Curse of Osiris, but as to what those changes are it could be anything.
What we haven't seen anything of is the new Exotic weapons coming in Curse of Osiris. It's clear that the weapons the Expansion adds are going to be combinations of Golden Age weapons with Vex technology weaved into them. What would be brilliant is a  weapon that shoots bullets through time with a 100% accuracy rate.
Image Source: Twitter
Destiny 2: Devils Ruin Review