Toxicology is the Best Ornament for Salvager's Salvo
No reason to grind for the others.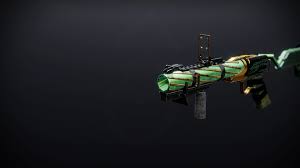 Season of the Chosen brought one of the worst pinnacle weapons to the game that I've ever used. Salvager's Salvo is not a good grenade launcher. In fact, it's worse than those that were added with Beyond Light, making it pretty damn abysmal. However, it looks incredible when it's got an Ornament on it. One Ornament, in particular, is my favorite, and I actually think it's the best-looking too. I am, of course, talking about Toxicology.
How to get Toxicology
To get this Ornament you need to do the following.
Get 100 kills in Gambit with a grenade launcher
Bank motes in Gamit
Banking motes is the easy part. I had to grind for days to get enough kills to get this Ornament. You'd have thought that a grenade launcher would net a lot of kills in a PvE mode, but that's just not the case.
Good Looking, But Still Bad
Once you have the Ornament, you need to attach it and use it as much as possible. It's got this incredible green and gold look to it with a snake at the back that is divine. I could genuinely look at this thing all day. It sucks that the weapon itself is so useless, because I'd love to run around using this in the game so much more than I currently do.
I think Bungie really dropped the ball with this pinnacle weapon. They made a phenomenal sniper rifle last season, but this is just an awful grenade launcher. There are so many much better ones already in the game that it feels like they didn't want to break the mold.
I think part of this stems from not wanting to make another The Mountaintop. That weapon ruined the meta in the Crucible, so it makes sense that the developers would want to avoid doing so again. Maybe they should have looked at doing a different type of weapon though.
The Seasonal Challenges this season are intrinsically linked to Salvager's Salvo though. Unfortunately, that means that you have to pick up every single Ornament for it if you're grinding these out. My advice is to get this one at least. It's just a stunning new way to look at the weapon.
Destiny 2: Devils Ruin Review