Mario Kart Destiny 2 Video Shows Why SRL Must Return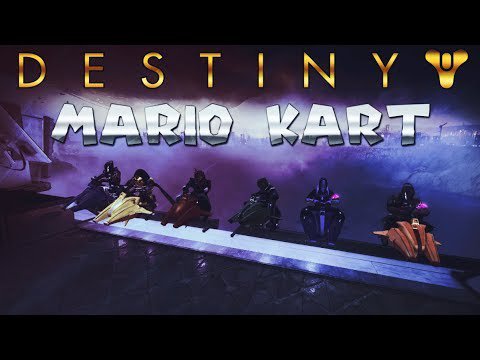 The new Sparrow that you can get with Solstice of Heroes 2019 is fantastic, and it's inspired a Destiny 2 Mario Kart parody video.
Check out the video below, and read on for more. Thanks to Kazzaboy13 for posting this on the Destiny Subreddit.
This is totally bonkers, and that's why it's so important that you watch it and laugh your head off. But aside from the fact that people actually put this video together, it brings to mind a certain live event that I think is sorely missing from Destiny 2. SRL.
Why Does SRL Need to Return to Destiny 2
SRL, or Sparrow Racing League as it's known, was an event that literally allowed Guardians to race each other in their Sparrows. It was incredible, with so many twists and turns, and enemies to take you out while you raced.
The reason SRL needs to return to Destiny 2 is purely because it's not in there right now. As a game mode it provided a level of variation that only Gambit has compared to, and even that has a heavy influence from the Crucible.
While SRL was live it offered specific rewards, as all time-limited events do, and earning those is still one of my personal Destiny universe highlights.
I really want Bungie to bring SRL back, but there's a problem.
Why Haven't Bungie Brought SRL Back Yet?
While SRL was great, it definitely had its issues. The game mode allowed you to advance through Crucible and Exotic quests without actually doing what was required. This was seriously cheesy, and it's only because SRL is built on top of the Crucible.
The Solution
Selfishly, I propose we have a future season named Season of the Sparrow. The season would introduce SRL to Destiny 2 as a whole new game mode, and give Guardians the chance to earn some brand new Exotic Sparrows.
The season could also bring Grand Prix events to Destiny 2, which would last way beyond the Season of the Sparrow. These Grand Prix events would award Exotic Sparrows each following season, and it would be glorious.
Let us know in the comments if you think SRL should return, and if you think the Season of the Sparrow is a fantastic idea.
Image Source: Reddit
Destiny 2: Devils Ruin Review