Is Deathbringer the Best Exotic Rocket Launcher in Destiny 2?
Should this be your best heavy option?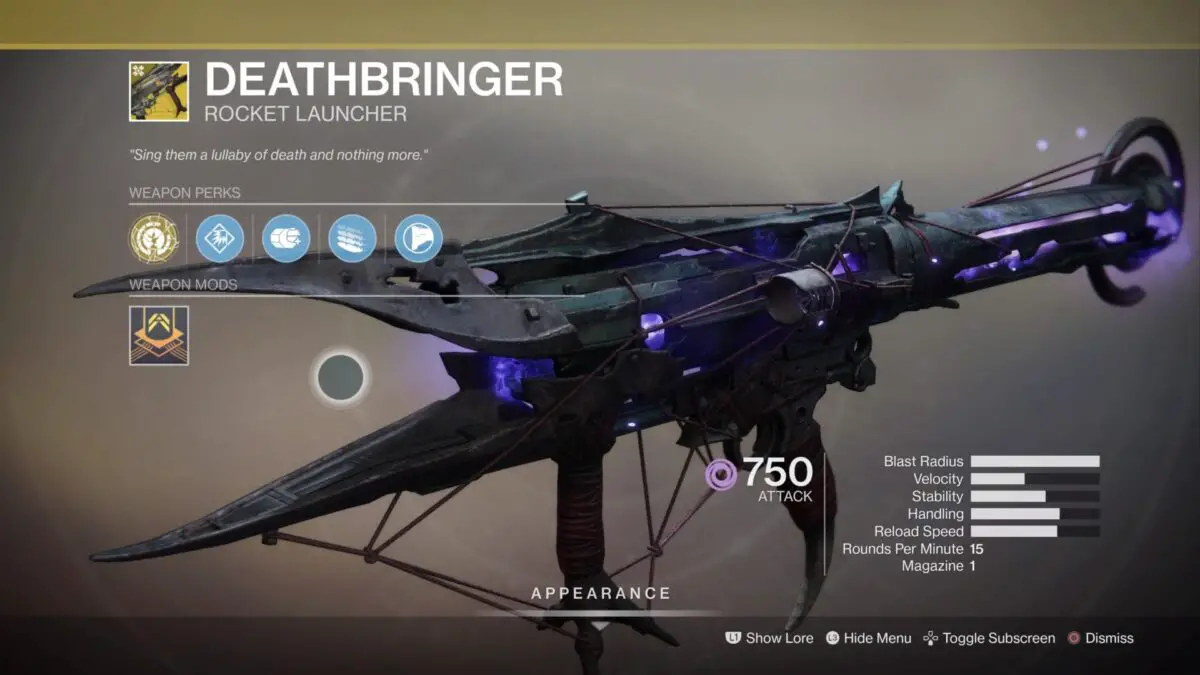 There are quite a few Exotic Rocket Launchers in Destiny 2 as of Season of the Splicer. That's great, but it also makes it very difficult to figure out which one is best. Luckily for you, we're going to go through them all here in this article to figure out which one is better than all the rest. First, let's look at the stats and perks on this thing.
Stats
Blast Radius – 100
Velocity – 42
Stability – 58
Handling – 69
Reload Speed – 67
Rounds per Minute – 15
Magazine – 1
Hidden Stats
Aim Assistance – 72
Inventory Size – 36
Recoil Direction – 58
Zoom – 20
Perks
As with all Exotics, there are random rolls to consider with Deathbringer. However, the perks you'll definitely see on it are as follows.
Intrinsic Perk: Dark Deliverance – Fires remotely detonated projectiles that drop cluster bombs on enemies
Dark Descent – The further a bomb falls, the greater its damage
Competition
There isn't too much competition for Deathbringer to match up against here. We'll go through them all and decide which ones have a better Intrinsic Perk and other factors than others.
Eyes of Tomorrow
The thing about this weapon is that it'll track and fire at multiple targets at once. That's quite the powerful ability when looking at any other Rocket Launcher. However, you could argue that Deathbringer is also capable of this, except you're the one doing the tracking and detonating. I think these two are on level pegging here, but I'd argue that Deathbringer is slightly better because you can increase the damage you deal by shooting higher.
Here we have another similar Rocket Launcher. It shoots a volley of rockets, but they don't aim at your targets. To me, that makes it worse, but there's the added reputation of this one to consider. Given how prominent Wardcliff Coil has been in the past, it's worth having just as a trophy.
Truth has single rocket tracking. Nope, it's not as good as any of the entires above it in this list.
The final entry here is a Rocket Launcher I adore. It shoots a double rocket with two elements. It's fancy, but no, it's got nothing on the ability to increase the amount of damage you're dealing.
Verdict
I don't think there's much more to say. Deathbringer has the best Intrinsic Perk out there for a Rocket Launcher. If you can buff your damage, you're winning. The only issue will be learning how to judge the shots right, but that will come with practise. Let us know if you agree in the comments.
Destiny 2: Devils Ruin Review