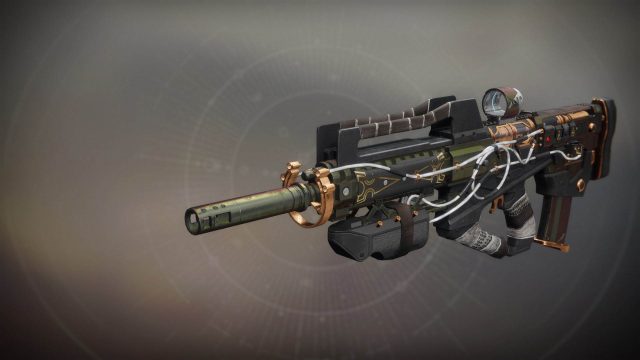 Infinite Paths 8 is a Legendary Pulse Rifle that's made the transition from Curse of Osiris to Season of Dawn with a big return for all those Pulse Rifle fans out there. We've started up our video reviews with this Pulse Rifle because resident writer Ben Klein has been having a tonne of fun with it. Check out the video review of Infinite Paths 8 below, and then dive into the stats and perks here so you can get a good idea of what the weapon looks like.
Stats
Impact – 27
Range – 37
Stability – 55
Handling – 79
Reload Sped – 64
Hidden Stats
Aim Assistance – 76
Inventory Size – 55
Recoil Direction – 59
Zoom – 17
Perks
Obviously the perks on Infinite Paths 8 are going to be randomised, but this is the roll we reviewed it with.
Lightweight Frame – This weapon has superb handling and you move faster with it equipped
Fluted Barrel – An ultra-light barrel that greatly increases handling speed and slightly increases stability
Accurized Rounds – This weapon can fire over greater distances, increasing range
Moving Target – increases movement speed and target acquisition when you're moving whilst aiming down sights
Opening Shot – You have improved accuracy and range on the opening shot of an attack
As Ben points out in his video review, this isn't a god roll of Infinite Paths 8, but it's pretty great for PVP, if that's where you want to focus your time with it. The perks focus primarily on increasing movement whilst also holding onto that all important stability that will keep you on your feet and fixed on the enemy, instead of shooting into the sky every time they fire at you.
I'm forever aiming down sights and taking pot shots at other Guardians in the Crucible because I love to play at range. I tend to only get in close when a quest requires it, so this weapon is right up my alley. Interestingly the stats haven't changed much since it was introduced in Curse of Osiris, but the switch up in perks has definitely made it less attractive to some Guardians out there. You used to be able to pick this weapon up with Firefly, but I think that's a tradeoff you're going to need to make with other, more useful, perks in Season of Dawn.
Let us know what you think of Infinite Paths 8 in the comments.
Image Source: DestinyTracker