Don't Forget The Dawning Ends On January 1st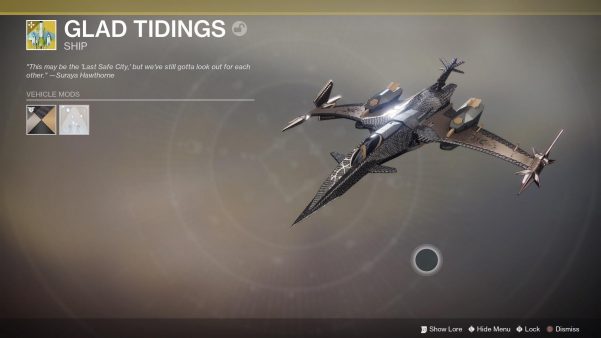 The Dawning, that Christmas event that we get to participate in every year in Destiny 2, is ending tomorrow Guardians.
Most of you probably already know this because you'll have been working towards a particular reward from the event, say the Exotic Ghost Skin that looks like a snowball, or a particular Exotic Ship, but some of you probably have no idea.
With the Iron Banner on this week it might have been hard to notice that The Dawning is ending on the 1st of January. So we're here to remind you of what you might want to do before the weekly reset tomorrow.
Masterwork Your Oven
Masterworking your oven is a very basic part of The Dawning this year. You'll have been earning ingredients and Essence of Dawning throughout the event. Bake every recipe, we've put a guide together for you here, and Masterwork it so you can collect the Triumph and earn your Sparrow.
Complete The Dawning Bounties
Once you've Masterworked your oven you get three bounties for The Dawning to complete. These will enhance your new Sparrow, and if that's all they did you might not be that bothered by them. What you may not have known however, is that these bounties must be completed in order to finish every Triumph for The Dawning.
Completing every Triumph is something that collectors and achievement hunters are super hot on, and if you're one of them but didn't know this you'd better get on it quick.
Buy What You Really Want From Tess
This last one might be a bit obvious, but nonetheless it's important to think about. Tess Everiss will only be selling the cosmetics and other items she's brought with her for The Dawning until the weekly reset tomorrow.
You might not want to spend real money on Silver for these items, but if you have enough Bright Dust from your time as a Guardian then you might be able to buy that one item you've been admiring for some time now.
Say Goodbye To Eva
Eva Levante is a good soul, and she returned to us for The Dawning this year. But Eva will have to go when the event ends. Even though she may return next year, it's still going to be another 12 months until we see her again. Go and say goodbye to her before it's too late.
Let us know what you're doing towards the end of The Dawning in the comments.
Image Source: Reddit
Destiny 2: Devils Ruin Review