Hunting Down Master Ives' Killer Part 1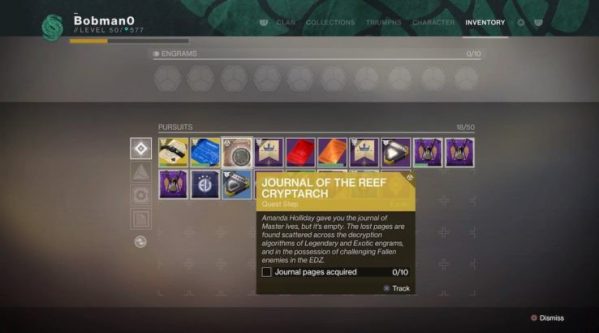 This week Bungie gave us access to the first part of the Festival of the Lost mystery quest. All we knew up until this week is that Master Ives had been murdered, but who by and with what were unclear.
Guardians jumped on the quest as soon as it went live, but unfortunately it's not that long right now. It appears to be a two parter, meaning we'll be able to access the rest of it next week when the reset hits again. However, what has been added so far is a big step towards this being an Exotic questline, and that further cement's a certain returning Exotic for many Guardians.
There have been rumours surrounding the Thunderlord's return in Destiny 2 for a couple of weeks now, and it's still possible that this festival of the Lost quest will result in us getting it. If you want to make sure you're in with a chance it's worth jumping on the first part of this quest now so you don't miss out in the last minute.
First what you have to do is go and talk to Amanda Holliday in the Tower, she's the Shipwright. Amanda hands over Master Ives' journal but there are some missing pages. Now you have to head out and collect 10 journal pages in order to complete this quest step.
How do you find these journal pages? Well you can get them in Legendary Engrams from a number of activities such as Strikes, Gambit matches, Crucible matches, and daily or weekly quests. Of course you can get Legendary Engrams in way more ways than this, and those will still count towards you finding pages.
The best way to farm the pages is to use the EDZ to find stronger Fallen enemies. Jump into as many public events as you can and that should have you well on your way to completing the quest step.
From here things get annoying. You have to hand those journal pages over to Amanda Holliday and then wait until the weekly reset for her to decrypt them. This is why the whole quest is a pain in the ass, but it's also the reason Guardians believe this to be an Exotic quest. The journal pages themselves are the same colour as other Exotic quest items, which is just more fuel to the Exotic fire.
Next refresh is on the 6th of November, but the next steps could go live before then. Maybe. In the meantime those Guardians who haven't done all of this have plenty of time to do so in anticipation of Thunderlord. What the next quest steps will be are a complete mystery, much like the identity of Master Ives' killer.
Image Source: GameRant
Destiny 2: Devils Ruin Review