How to Get the Deathbringer Catalyst in Destiny 2
Just how do you get yourself this Catalyst?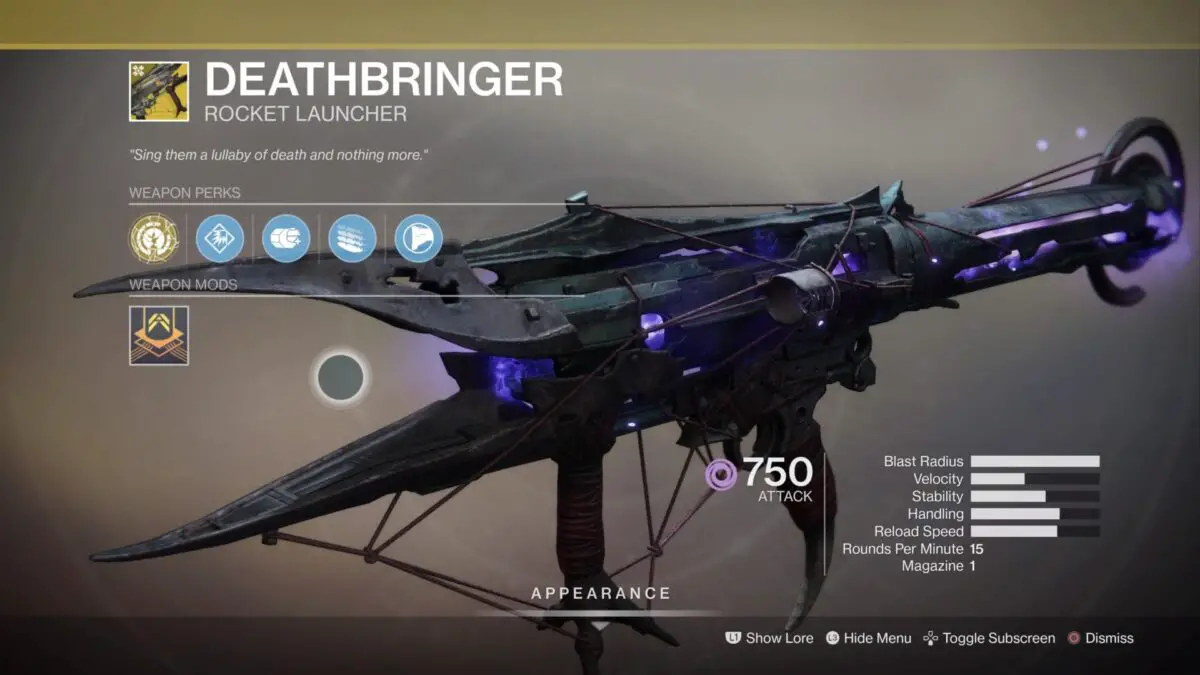 In Season of the Splicer, Bungie gave us a brand new Catalyst for one of the Exotic weapons that didn't have one, Deathbringer. The Catalyst is now fully available for any Guardian to pick up, level up, and enjoy, but how do you get it? In this guide, we're going to cover exactly how you acquire the Catalyst, level it up, and have the best time running around with it killing everything in sight. One thing that you'll definitely need for this to work is Deathbringer itself, so make sure you have the weapon before you go out looking for the Catalyst.
How to Get the Deathbringer Catalyst
Actually getting the Catalyst isn't that hard at all. It's a random drop from Strikes, Gambit, and the Crucible. You'll often find it dropping as a reward at the end of whatever activity you're taking on at the time. Luckily, the drop rate for this Catalyst is pretty high, so you'll probably end up getting it way before you're expecting to. There's certainly not that much of a grind with this one. Of course, other Catalysts also drop in these activities, so don't be surprised if you get a bunch of others too. you've just got to keep going until you get Deathbringer's.
How to Level up Deathbringer's Catalyst
As with most Catalysts, you won't get the most out of this one unless you level it up. To do that, you've got to kill enemies with it. This shouldn't be too difficult, but the way that Deathbringer works certainly doesn't make it easy. You see, Deathbringer must be fired overhead so that it can drop a cluster of bombs on the enemy, you can't simply aim and fire.
As a result, activities like Crucible aren't fantastic for this. Instead, you're better off in activities where you've got loads of enemies to take on. If you can stomach it, taking those activities solo is the best option as well. This way, you'll have all the glory and kills, rather than having to share them with friends. The one exception is jumping into a raid since there are more than enough enemies to go around in those.
Keep pushing through these activities and eventually, you'll unlock the full potential of this Catalyst. Let us know if you're running with it right now in the comments.
Destiny 2: Devils Ruin Review