Destiny: Xur's Inventory for May 5th and 6th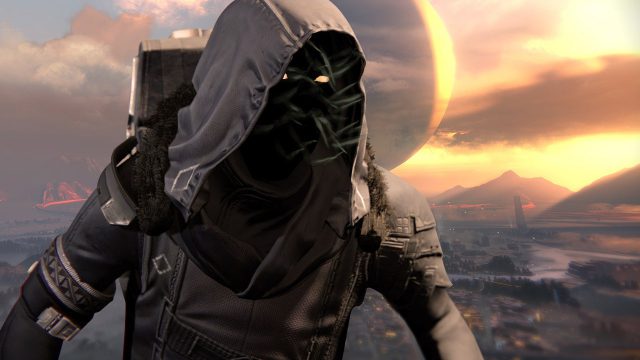 Who is Xur?
Xur Agent Of The Nine, works for the mysterious group, The Nine. While Guardians have never seen The Nine, it is said that their influence is vast. Xur, the moss-tentacle-faced vendor visits social spaces once a week, bringing with him a variety of exotic items, which Guardians can purchase with Strange Coins.
Xur's Location
This week if you're looking for Xur you need look no further than the Tower. Head straight down from spawn, all the way into the Hall of Vanguard. If you get to the big table in the middle you've gone too far. Instead, make your way up to the balcony, the right hand side specifically, and you'll find Xur lurking around behind of the wings there.
Xur's Inventory
Exotic Weapon: MIDA Multi-Tool (Exotic Scout Rifle) 23 Strange Coins
This is a weapon of legends we have to be honest. As a scout rifle it's got superb qualities for those who want to fire fast or slow. The gun was used to source the hidden chests in the Vault of Glass, though of course it's hidden perk of being able to find these chests is now a subject of much debate. The first listed perk, MIDA Multi-Tool, boosts movement speed and makes the weapon fire on a hair trigger. Third Eye, the second perk, allows your radar to be visible when aiming down sights, part of how it was used to track certain hidden chests.
Check out our analysis of MIDA Multi-Tool to see if you're interested.
Exotic Chest Armour: Twilight Garrison (Titan class) 13 Strange Coins
If you've ever wanted it to look like you've got a massive eye at the top centre of your chest, this is the armour for you. The exotic perk, Tactical Air Support, allows you to evade while in mid-air. This is a great perk for Titans as they can hover in mid-air, and having the ability to dodge as well will make for interesting Crucible takedowns.
Exotic Chest Armour: Voidfang Vestments (Warlock Class) 13 Strange Coins
This Chest Armour has been available from Xur before, but that makes it no less exotic so it's always worth a gander if you don't have it. The exotic perk, Hungering Void, allows Guardians to spawn with full grenade energy for their Axion Bolt grenade, and spawns an additional seeker.
Exotic Gauntlets: Don't Touch Me (Hunter Class) 13 Strange Coins
When you run Crota's End, because we know everyone will have to run it again at least once for that record book and the sweet loot, these can be priceless. The perk, Defensive Reflex, makes you briefly invisible when you take melee damage from enemies. I can't begin to tell you how important it is to be invisible when taking down Crota, as the Swordbearing duty often falls to a Hunter. Furthermore, in Prison of Elders, the invisibility can help you avoid destruction at the hands of Skolas should you choose to take him on.
Weapon Bundles
Zhalo Supercell and Shock Hazard: (weapon Bundle) 30 Strange Coins and 25 Silver Dust
Maybe try a different route for the ornament if you already have the weapon, but honestly the Zhalo Supercell is a superior weapon, which you should buy if you're looking to purchase a bundle.
Monte Carlo and Royal Flush: (weapon Bundle) 30 Strange Coins and 25 Silver Dust
We will always say that it's better to try to get the ornaments from treasures every week, or from the Silver Dust store. Monte Carlo however, is a great weapon and worth your time if you've got the spare currencies.
Legacy Engram: (Exotic Special Weapon) 29 Strange Coins – The Legacy Engram will decode for a Year 1 or 2 piece of armour to complete your collection. Some of these items can be infused to Year 3 Light Level.
Three Of Coins (Consumable) 7 Strange Coins
Plasma Drive (Consumable) 23 Strange Coins
Emerald Coil (Consumable) 23 Strange Coins
Heavy Ammo Sythesis Consumable) 3 Strange Coins
Glass Needles (Consumable) 3 Strange Coins, 3 Motes Of Light, and 1 Exotic Shard
Our Take
The MIDA Multi-Tool is a really great weapon, but Don't Touch Me are also some of the best Gauntlets available for Hunters. As we suggest with many weeks though, you should look at your record book and decide what you need in order to complete it, because there won't be enough Xur visits to ensure you pick up everything before the time is up. Whatever your main character is, the MIDA Multi-Tool is a fast and reliable weapon with which it's hard to go wrong.
Destiny 2: Devils Ruin Review