Destiny 2 Season of the Splicer Roadmap In-Depth Analysis
Check out what's coming this season.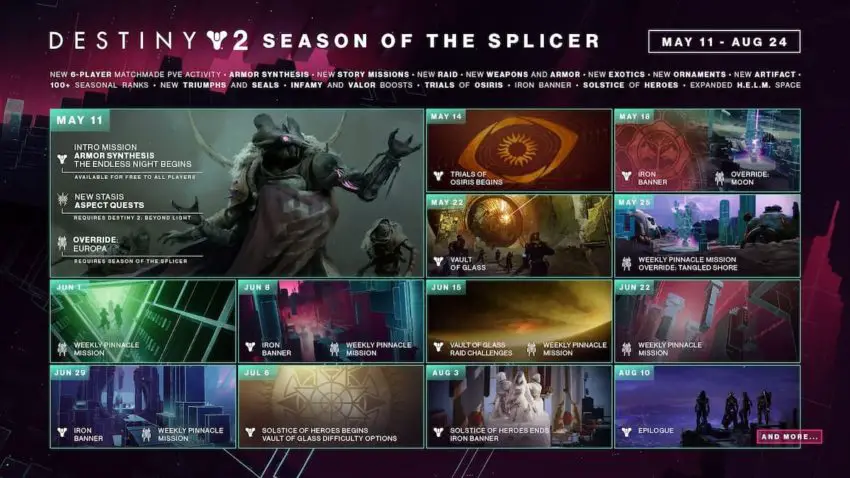 Destiny 2 Season of the Splicer is now well under way. However, we've also got a content roadmap for it. In this guide, we're going to take a little look at what's yet to come to the game, and analyse anything that we're not too sure about.
May 11 Launch
I think we all know what's come out since launch. There's a whole host of new content, including the intro mission, Override on Europa, and a new Stasis aspect. We hope you're all enjoying those.
May 14 – Trials of Osiris
As of this weekend, the first Trials of Osiris for the season is live. Nothing too special about that though.
May 18 – Iron Banner and Override Moon
The first Iron Banner event of Season of the Splicer goes live next week! There's nothing new about it, but what is new is the Override activity on the Moon. This is a new area to take the Seasonal Activity on in. Hopefully it provides some variety to the gameplay loop.
May 22 – Vault of Glass
This is what a bunch of you are waiting for. Vault of Glass is returning, and it has a host of changes to make it even more exciting. There will be a race to finish this raid first among streamers. We hope that it's an exciting and bug-free experience.
May 25 – Weekly Pinnacle Mission and Override Tangled Shore
Another new Override location, this time on The Tangled Shore, as well as a brand new weekly pinnacle mission. Loads of new content to explore, so little time. This should be a good week for those who enjoy PvE, but there's nothing groundbreaking.
June 1 – Weekly Pinnacle Mission
Another weekly pinnacle mission comes into rotation.
June 8 – Weekly Pinnacle Mission and Iron Banner
Once again, a new weekly pinnacle mission, but there's also a new Iron Banner. This will be a varied week that offers a lot for Guardians regardless of what they enjoy playing.
June 15 – Vault of Glass Challenges and Weekly Pinnacle Mission
Another new weekly pinnacle mission comes out, but Vault of Glass gets raid challenges today. This is the real new raid content, and it'll give Guardians who enjoy raiding something new to chase. These have reinvigorated old content for us, so they're sure to do the same for this new raid.
June 22 – Weekly Pinnacle Mission
Nothing much more interesting on this day, but there is a new weekly pinnacle mission.
June 29 – Weekly Pinnacle Mission and Iron Banner
Pretty much the same as the past two weeks. A token Iron Banner event and a new weekly pinnacle mission.
July 8 – Solstice of Heroes Starts
This is the day that Solstice of Heroes begins. It's a sign that we're coming to the end of a big story arc in Destiny 2. Hopefully there's enough new meaningful content in the event to make it worthwhile for all veteran Guardians.
This date also adds some difficulty options for the Vault of Glass raid. This will make it even more enjoyable to play for those who love raids.
August 3 – Solstice of Heroes Ends and Iron Banner
Here we have another Iron Banner, and also the end of Solstice of Heroes. This is likely to be the culmination of everything you've done in the season. However, the event could also be the last for the future of Destiny 2, depending on where Bungie is taking the game given the final entry on the roadmap.
August 10 – Epilogue
This is something that's quite confusing. It's probably going to be the end of the story that's been brewing since Destiny 2 launched. We reckon that the next expansion will start a new one, and Bungie is ending the current story arc with this epilogue entry.
Let us know what you think of the season's roadmap in the comments.
Destiny 2: Devils Ruin Review