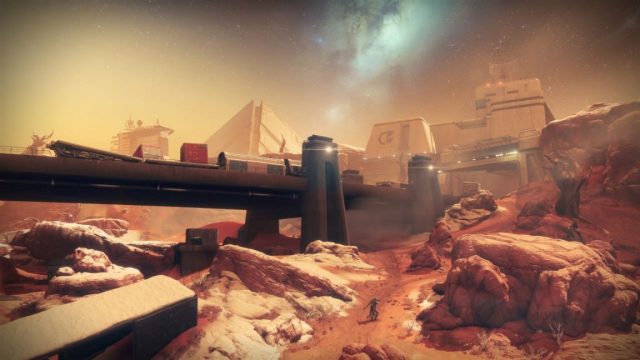 Bungie has finally given us a common cause to work towards! Thankfully it's not another convoluted form of utilising the game's almost irrelevant factions, in fact it sees all Guardians return to Mars.
Mars was the planet added to Destiny 2 with the Warmind DLC. In my opinion it was the better of the two early DLCs released for Destiny 2 in the first year, with the first being Curse of Osiris. In Wamrind we were all brought to Mars to save Rasputin, who was under attack from the Ice Hive and Xol, an ancient Worm. Now we will return to the scene of our ultimate victory over that mess of a creature, but we'll be doing it as a community around the world.
Between the 3rd of September and the 10th of Septmeber, which is a normal Tuesday to Tuesday reset in Destiny 2, all Guardians will need to complete the following objectives in order to earn some pretty great rewards.
Defeat 175 thousand Wave 7 Escalation Protocol bosses
Defeat 300 million Hive on Mars
Defeat Nokris in a Nightfall Strike 150 thousand times
Defeat Xol in a Nightfall Strike 100 thousand times
Use 300 thousand Override Frequencies
Collectively every Guardian must take part in order to complete these objectives. I have no doubt that Bungie has looked at the number of monthly active users and judged these to be numbers we can only work to as an entire community, not just with those who stream or make content on the game pushing for it.
As an added incentive there are a couple of rewards for completing these objectives. The first one is the below Emblem, but there are some stipulations. First, you must have completed one of the Nightfall Strikes within the objective list above while the community challenge is active. Second, you must also have been taking part in some fo the other objectives, killing Hive on Mars for example. Much like with the chaotic micro-events that Bungie have honoured, this Emblem will be something that the influx of new Guardians that come with Destiny 2 New Light will never be able to get. In my eyes, that makes it extremely valuable and collectible.
In addition to this Emblem, Guardians are also going to unlock some new rewards from Calus in the Menagerie if we complete all of these objectives. Firstly, the Menagerie chest will award two guaranteed rewards based on your rune slots in each Menagerie run for the rest of Season of Opulence. Second, every Friday will offer an additional reward from the Menagerie, from Calus, until the end of Season of Opulence too.
We think that the rewards are worth the work here Guardians, but what do you think? Let us know your thoughts on the first official Destiny 2 community challenge in the comments.
Image Source: USgamer