Destiny Massive Breakdowns Going On 3 Month Hiatus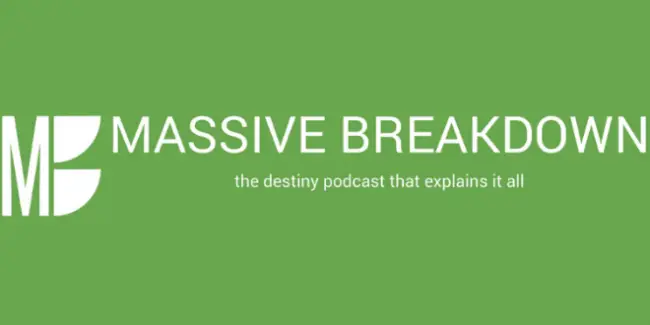 Over on r/DestinytheGame Mercules904, Chief Wall-Shooting Officer on Destiny Massive Breakdowns, announced that the site would be taking a 3 month hiatus from both the podcast and articles. The reason for this hiatus is that Mercules904 got the third Gameplay Specialist position at Bungie, pretty exciting for them!
Destiny Massive Breakdowns began as a podcast that discusses the mechanics and systems of Destiny in an understandable way so that everyone can learn a bit more about topics such as Crucible weapon and armour meta, why it's so hard to earn certain loot, and what the Hive really think about us.
The podcasts runs every week and has most recently been discussing Season 3 of Destiny 2 and the new Warmind expansion. In fact they've been discussing ideas for weapons and how they could solve a number of problems the Destiny community have with these ideas for changing both weapons and armour.
Destiny Massive Breakdowns also produces notes for each podcast, creating what is effectively written versions of each podcast for anyone who wants to read them or can't listen to the podcast.
The 3 month hiatus will put the podcast on hold for around 12 weeks, equating to about 12 episodes. This will also put the notes for these podcasts on hold for the same time period, but it seems as though the creators have the intention of returning once things have settled down with this new position.
Many fans of the website and Destiny 2 are begging Mercules904 to fix the game, though everyone has a different opinion about what is broken about it if you ask them. The job title itself seems to allude to a position that will focus on Destiny 2 gameplay, testing changes and having an impact on what changes make it into updates that are pushed to players. This is an important role for someone so prevalent in the community because they are in touch with the fans in a way that Bungie aren't. As a developer Bungie receive a lot of flack for the things players deem to be bad, and barely any praise. Hopefully in this new role Mercules904 will be able to balance out what changes should be made based on their knowledge of what players are asking for, and of the deep details of Destiny weapons and armour.
Image Source: PlanetDestiny
Destiny 2: Devils Ruin Review